Trump's Immigration Ban Results In 5-Year-Old Being Detained Alone For Hours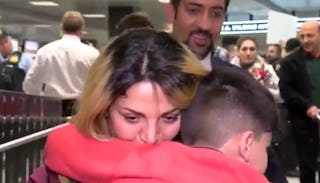 Image via YouTube
The little boy was kept away from his mother for hours at Dulles International Airport
As more stories emerge of families affected by Donald Trump's executive order banning immigration from certain heavily Muslim countries, it's becoming clear that the human toll of his rash decision is vast. Social media is currently awash in tales of families being kept apart and refugees, some who've completed extensive vetting in order to enter the United States legally, being denied entry.
Among the accounts, one of the most upsetting is that of an unnamed Iranian woman and her five-year-old son, finally reunited after the child spent hours detained at Dulles International Airport in Washington, D.C. He was traveling with a family member and as a result of Trump's executive order, was prevented from being with his mother upon returning home.
Video of the woman cradling her son and leaving the airport after the ordeal quickly went viral.
The order, enacted this past Friday, calls for banning the entry of Syrian refugees indefinitely, all refugees for 120 days, and all citizens from seven predominately Muslim countries (Iran, Iraq, Libya, Somalia, Sudan, Syria and Yemen) for 90 days. The repercussions of the EO are vast and heart-breaking.
Watching this mother reunite with her little boy, the panic on her face before holding him and the relief right after, should cause every American to feel outrage. What threat was a small child that he needed to be held without a parent for several hours at a busy airport? Can you imagine his fear?
This little boy, only five years old, spent hours alone with strangers, without his mother. He probably had very little idea what was going on and may have been scared out of his mind. Let that hit you right in the gut.
Picture your own small child being without you that long, unexpectedly, in a decidedly tense atmosphere. It's horrifying to contemplate, and now, it's happening to parents and kids on our own soil. Though their story has a happy ending, the fact that this happened at all should be settling off alarm bells for any reasonable American.
Fortunately, a federal judge temporarily halted parts of the order so detainees in U.S. airports could be released. But much of the EO is still in place, which will have far-reaching implications for many families.
This is simply not who we are. We're a country that welcomes immigrants and refugees, not terrorizes them.