Trump's Lawyer Secretly Recorded Him Discussing Payment To Playboy Model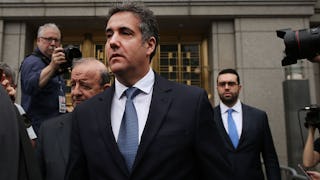 Image via Spencer Platt/Getty Images
The FBI has tapes of Trump and his lawyer discussing hush payments to an ex-Playboy model — whose story was silenced by a paper Trump's friend owns
In today's mind-blowing news that should mean something huge but somehow probably won't because Republicans are completely devoid of spines, Donald Trump's personal lawyer recorded a conversation between himself and then-candidate Trump about a payment to silence a former Playboy model he had an affair with.
And now, the FBI has those tapes. You hear that, James Comey? Lordy, there are tapes.
The New York Times reports that in September 2016, Cohen, Trump's longtime lawyer and personal friend, secretly recorded a conversation with Trump about payments to Karen McDougal, a model who alleged an affair with the then-candidate. The tape became a thing when the FBI raided Cohen's office this year and seized the recording. It's also come out that during the last months of the 2016 campaign, McDougal sold her story to the National Enquirer for $150,000, but the paper sat on the story and stopped it from ever becoming public.
Naturally, and this is where the plot gets stew-thick, David J. Pecker, the chairman of The Enquirer's parent company, is a friend of Trump's, and McDougal is accusing Cohen of being part of the cover-up to kill her story. Now, the FBI is investigating all of it.
A big concern for Trump is whether the payments to McDougal and any other women who had an affair with Trump and were paid to stay quiet about it violated any campaign finance laws, a matter the Justice Department is now investigating Cohen for.
Rudy Giuliani, currently a lawyer for Trump, confirmed to the Times that the tape is legit, but claims the payments discussed were never actually made. He says the two-minute recording only serves to demonstrate that the president did nothing wrong. "Nothing in that conversation suggests that he had any knowledge of it in advance," he says.
Sure, bro.
Also of note? Former Trump administration campaign spokeswoman Hope Hicks may have lied about Trump's knowledge of the payments (which the FBI now has evidence to the contrary on tape) and that the relationship with McDougal ever took place. "We have no knowledge of any of this," she said in response to a Wall Street Journal piece that broke the news of the payments. Hicks also called McDougal's claim of an affair with Trump "totally untrue."
McDougal says she had a nearly yearlong affair with Trump (shudder) which occurred around the time Melania gave birth to the couple's son, Barron, in 2006. You listening, evangelical voters? Family values AF.
What's more, a source tells CNN there are other recordings from Cohen involving the president that were also seized by the FBI. Giuliani backs up this source but says the other recordings aren't salacious in nature.
But buckle up, pups — it sounds like there's going to be more and Cohen is coming around to the idea of cooperating with the US attorney's office in order to turn over info they might want on other individuals they're investigating. "My wife, my daughter and my son have my first loyalty and always will," he told ABC News this month.
In other words, not Trump.
This article was originally published on