Trump Orders U.S. Military Air Strikes In Syria -- Here's What You Need To Know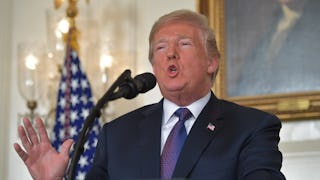 Image via MANDEL NGAN/AFP/Getty Images
The air strike was in response to Syria's use of chemical weapons
Yesterday, Trump ordered a military operation — joined with the U.K. and France — to launch air strikes on Syria. The missiles are being aimed at targets associated with chemical weapons, apparently in hopes of halting further chemical attacks on Syrian civilians.
Last week, more than 40 Syrian civilians died after a suspected chemical attack struck a suburb of Damascus — with many Syrian aid groups blaming President Bashar al-Assad's government for the latest attack. Syria has been engaged in a lengthy civil war for approximately seven years, and this isn't the first time the United States has sought to intervene.
In a televised address, Trump said the strikes are intended to be the beginning of a sustained effort to force Assad to stop using chemical weapons — but didn't elaborate on any further plans beyond the one-night strike operation.
The strike did hit three of Assad's chemical weapons facilities, according to Gen. Joseph F. Dunford Jr., the chairman of the Joint Chiefs of Staff.
Joining the United States in the retaliation strikes are France and the U.K. Trump did not seek Congressional approval prior to ordering the strikes, a point which has many up in arms about the legality of the decision.
Many people are also criticizing Trump for his sudden interest in protecting innocent Syrian civilians, considering his stance on allowing the U.S. to accept Syrian refugees.
https://twitter.com/jetpack/status/984968331294855168
No word yet on any civilian casualties or injuries as a result of the latest strike, but it's important to remember that while Syrian civilian casualty rates certainly existed under Obama, they've increased under Trump.
Russia, a Syrian ally, has condemned the strike: "We warned that such actions will not be left without consequences," Anatoly Antonov, the ambassador to the United States, said in a statement. "All responsibility for them rests with Washington, London and Paris."
Regardless of how you look at it, the latest military strike seems to begin a new chapter in an exhausting saga of seemingly neverending war for multiple generations of Americans.