Trump Threatens To Ditch DACA And Kick Out 'Dreamers' Who Came To U.S. As Children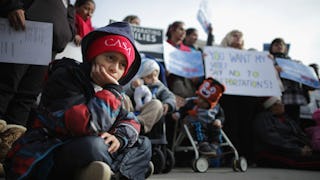 Chip Somodevilla / Getty Images
Imagine that, as a child, your family moves to a new country. You are scared and worried, but as a small child, you trust your parents and go where they go.
Over the years, this new and strange place slowly becomes familiar. You make friends. You learn the language. You go to school and get a job. You start your own family. You had no choice about coming to this new place all those years ago, but since you grew up here, received your education here, made your friends here, and put down your own roots here, it is now home. The only home you have ever known.
Imagine now that the government of that country — of that place you've only ever known as home — wants to kick you out. Imagine going to work or school constantly afraid that you will be asked to pay the price for the decision you didn't make because you were a child and followed your parents.
Imagine the terror of being asked to give up the only life you've ever really known. Imagine the devastation of having to leave behind your spouse and your precious kids, and not knowing when you will be reunited again.
That's the dire situation hundreds of thousands of immigrants who came to the U.S. as children are facing under the Trump administration. Despite earlier statements that he would keep DACA intact, a senior White House official said on Thursday that the president has imminent plans to rescind the Deferred Action for Childhood Arrivals program, or DACA.
This is not okay.
DACA is a program enacted in 2012 that protects undocumented immigrants who arrived in the U.S. as children, commonly known as "Dreamers," to stay in the country. To be clear, these are not folks trying to skirt the system; these are people who came to the U.S. as children and this is the only home they know.
To be eligible for deferred deportation under DACA, a person must have been under the age of 31 before June 15, 2012, have lived in the U.S. since June 15, 2007, and come to the U.S. before his or her 16th birthday. Eligible recipients are able to request a "consideration of deferred action," and if granted, the deferral period applies for two years, after which it must be renewed.
The announcement drew outrage from businesses, immigration groups, and basically anyone with a heart. Following the announcement, hundreds of business executives from companies as well known as Apple, Facebook, Microsoft, and Amazon immediately issued a public petition urging Trump to keep DACA.
The program allows Dreamers the opportunity to work and study in the U.S., and without DACA, nearly 800,000 Dreamers would be at risk of deportation to a country they quite possibly have never really known. They likely have no place to go and no support system once they are forced to go there.
These aren't the "criminals" the Trump Administration likes to paint all undocumented immigrants as. Not in the least, and please do not believe that lie. These are people who simply had no choice in the matter when they came to the U.S. because they were children.
DACA recipients grew up in the U.S. They are registered with the government and have submitted to extensive background checks. They are giving back to their communities, paying income taxes, buying homes and cars, and maybe even supporting their own children. In fact, according to the business coalition, more than 97% of Dreamers are in school or working, and 5% are entrepreneurs who have started their own business.
One more time for the people in the back: These are people who came to the U.S. as children.
Most Americans understand the importance of immigrants to our country, which is why it is utterly incomprehensible that the president is even considering getting rid of DACA. In fact, according to the Washington Post, multiple polls have shown that about two-thirds of Americans, including Republicans and Trump supporters, favor protecting Dreamers in some form.
If Trump can't be convinced to keep DACA because it is the right (moral, upstanding) thing to do, the business coalition is hoping to appeal to his business sense. Microsoft's chief executive Satya Nadella reminded everyone that "smart immigration can help our economic growth and global competitiveness" while creating more jobs for Americans.
"Unless we act now to preserve the DACA program, all 780,000 hardworking young people will lose their ability to work legally in this country, and every one of them will be at immediate risk of deportation," the executives wrote. "Our economy would lose $460.3 billion from the national GDP and $24.6 billion in Social Security and Medicare tax contributions."
Not only would a DACA repeal be one of the most asinine things Trump has done, but it would also be one of the most heartless.
We need to resist this.