Trump Sent A Threatening All Caps Tweet To Iran, This Is Our Reality Now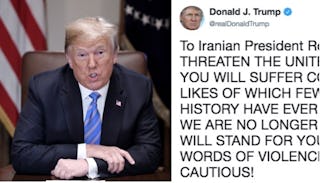 Image via pool/Getty Images/Twitter/Donald Trump
Trump takes to Twitter with threats of war, this time directed at Iran
President Donald Trump continued to make overseas political threats over Twitter this weekend, turning his attention suddenly to Iran and specifically Iranian President Hassan Rouhani.
Trump sent out the strongly-worded, all-caps tweet shortly after returning from another weekend golf retreat at one of his own resorts.
"To Iranian President Rouhani: NEVER, EVER THREATEN THE UNITED STATES AGAIN OR YOU WILL SUFFER CONSEQUENCES THE LIKES OF WHICH FEW THROUGHOUT HISTORY HAVE EVER SUFFERED BEFORE," Trump tweeted on Sunday evening. "WE ARE NO LONGER A COUNTRY THAT WILL STAND FOR YOUR DEMENTED WORDS OF VIOLENCE & DEATH. BE CAUTIOUS!"
Not at all terrifying to have our president tweeting words of war to another country IN ALL CAPS, right? Right. Everything is fine.
The tweet comes after a week of criticism — even from the right — following the president's meeting with Russian President Vladimir Putin. It was also a response to comments delivered to diplomats in Tehran by President Hassan Rouhani that America "must understand that war with Iran is the mother of all wars and peace with Iran is the mother of all peace," and, "Do not play with the lion's tail, because you will regret it eternally."
The message also comes just hours after new United States Secretary of State Mike Pompeo delivered a searing speech about Iran at the Ronald Reagan National Library in Simi Valley, California, on Sunday evening. That speech had the same language as the Trump Tweet, and went into details about the country's corrupt government as well as the Iranian Supreme Leader Ali Khamenei's alleged $95 billion hedge fund.
"The level of corruption and wealth among regime leaders shows that Iran is run by something that resembles the mafia more than a government," he said.
On Monday morning, White House press secretary Sarah Sanders stated, "if anybody is inciting anything, look no further than to Iran."
The speech seemed to be charitable to the people of Iran, while alienating and criticizing their leadership.
There is no word on if the President met with his national security team before firing off war threats on Twitter or whether he has a plan of action in place related to the content of the tweet. However, national security advisor John Bolton doubled down on the tweet on Monday morning.
"I spoke to the President over the last several days, and President Trump told me that if Iran does anything at all to the negative, they will pay a price like few countries have ever paid before," he said in a statement.
In May, Trump followed through with a campaign promise to back out of the nuclear deal struck by Obama, in which the Middle Eastern country agreed to stop nuclear advancements in exchange for sanctions relief. While other countries, including Iran, are standing by the deal, the US is in the process of imposing new sanctions.
Response to the latest tweet tirade by pundits was not very mixed: many voiced their concern, especially regarding the threatening tone of the tweet, but also regarding how the tweet is deflecting other negative Trump news.
"Donald Trump likes to direct the media narrative, to control it," NPR's Mara Liasson said this morning. "And he's gotten us all talking about Iran this morning, instead of talking about Putin, or the investigation into Russian interference."
This article was originally published on