Trump Halts Visas For Same-Sex Partners Of Diplomats And UN Employees
by Jerriann Sullivan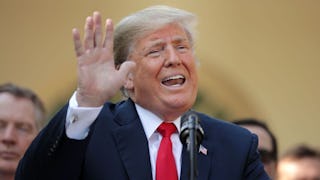 Image via Chip Somodevilla/Getty Images
Trump halted visas for diplomats' same-sex partners
Donald Trump has stopped approving visas for unmarried, same-sex partners of foreign diplomats, officials, and employees of the United Nations. Not only is the decision unnecessary and cruel but it puts an unknown number of people in danger.
Trump decided to reverse the United State's policy of approving visas for the same-sex partners of diplomats and instead is making marriage a requirement. The giant problem with this idea is that the majority of countries don't have same-sex marriage and many of these couples would face prosecution in their home countries if they were to marry in the United States. His policy, which USA Today noted the administration unveiled in July but just announced, is literally putting people in danger. Trump wants same-sex partners of diplomats and U.N. employees to get married by the end of 2018 – just a few months away – or he'll force them to leave the country.
Samantha Power, a former U.S. ambassador to the United Nations, told USA Today that only 12 percent of the 193 U.N. member states represented in New York allow same-sex marriage. She called Trump's decision "needlessly cruel and bigoted."
According to Trump's administration, at least 105 families will be affected by his policy. But we've seen the Trump camp misreport the numbers countless times — especially when it comes to their policies that negatively impact minority groups. The administration also didn't release information on how many foreign diplomats and U.N. employees with pending U.S. assignments will be impacted by this new decision.
At a time where the Trump administration should be focusing on finding a better nomination for the Supreme Court or reuniting children with their families, they're instead releasing memos on this discriminatory policy. Forcing same-sex couples to marry when they would face criminal charges when they return home is a quick way from Trump to remind everyone how terrible of a president he is. "With this change, the State Department is enforcing parity in the way they recognize opposite-sex partnerships and same-sex partnerships," said U.N. Globe, an LGBTI staff advocacy organization for the U.N. "It is an unfortunate change in rules, since same-sex couples, unlike opposite-sex couples, have limited choices when it comes to marriage."