Trump Warns Biden Will 'Listen To Scientists' — Like That's A Bad Thing
by Christina Marfice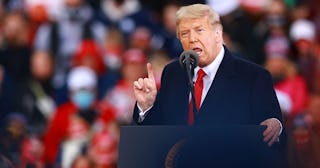 Rey Del Rio/Getty
Trump's latest anti-science rant at a campaign rally shows how laughably out of touch he really is
With just weeks remaining until the election, the only campaign strategy Trump seems to have left is to convince his base that a Joe Biden presidency will be everything his own hasn't been (which, duh, that's kind of the idea). In a typical election between a Democrat and a Republican, that might involve discussing differences in economic strategy, business regulation, or environmentalism. This isn't a typical election, though, so now what that looks like is Donald Trump holding a campaign rally in Arizona and attempting to scare his base by warning them that Joe Biden "will listen to the scientists."
Um, OK, where's the scary part?
Joe Biden confirmed this in a tweet.
The context of the president's remarks was that Biden would surrender America's "future to the virus" because "He's gonna want to lockdown."
"He'll listen to the scientists," Trump said in a mocking voice, then added, "If I listened totally to the scientists, we would right now have a country that would be in a massive depression instead — we're like a rocket ship. Take a look at the numbers."
A number of problems with Trump's statements here: More than 8 million Americans have been confirmed as infected with COVID-19, and more than 217,000 have died. That's in large part because Trump has been adamant about ignoring and undermining scientists. He railed against state and city leaders who locked down their communities to slow the spread of the virus, and as recently as last week, spoke out against wearing a mask, which is the single, simple way we can keep our economy open while protecting people from infections.
We don't need to rehash the horrors of the pandemic – we're all living it right now. We know how awful this is, and we see other parts of the world where leaders listened to scientists and life has been less disrupted, less scary, and filled with so much less death.
So let's talk about all the other ways Trump has been anti-science during his administration. So far, he's rolled back 64 environmental regulations, with another 34 rollbacks in progress. He insists that worsening wildfire seasons in the American West are due to "bad forest management," when we know that climate change is making them more brutal each year. As Americans die and lose their homes in those blazes, Trump just denied federal aid to California (before abruptly reversing course) by saying that the single worst fire season in the state's history isn't an emergency to his administration.
We don't even know the human toll of Trump's other anti-science stances. He's tweeted anti-vaccine sentiments, ignored deadly hurricanes bearing down on American shores, and removed the U.S. from the Paris Climate Agreement and the World Health Organization. Trump's science denial is, in a word, catastrophic.
So yes, give us a president who listens to the scientists. Who knows how many lives could have been saved if Trump had done the same.