PSA: Always Wear Your Panties When You Try On A Bathing Suit
by Elizabeth Broadbent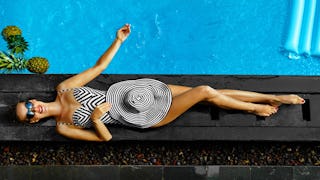 puhhha / iStock
Bathing suit shopping usually works like this: You browse through the racks of everything from monokinis to one-pieces to skirted tankinis trying to decide what will best flatter your smoking hot I-birthed-three-kids bod. You select a handful of them, their skimpiness a direct correlation to your confidence level. Some mamas grab the bikinis. Some go for the strapless monokinis with the weird strips of fabric. The brave bare their bellies. The rest of us hunt for some tankinis. And a small minority need the confidence-boost of a tummy-control one-piece. Which we will wear under a cover-up. Which we will only remove in the moment before we enter the water.
You haul your booty into the dressing room. You hang the suits, usually around five of different cuts and styles, on the hanger. And you start stripping: shirt, bra, pants and — nope, no way, leave on those panties, girlfriend. Trying on swimsuits sans undies is akin to rubbing your crotch against the same piece of fabric 10 other people have. Well, not really "akin to," more like, "exactly the same thing as."
When we see clothes with the tags on, we're conditioned to think: brand-new, never worn. Except that's not really the case, retail experts told Good Morning America. GMA decided to test this and had microbiologist Dr. Phillip Tierno test some supposedly new clothing. What he found was disturbing: Several of the "brand-new" items contained bacteria of various kinds, including fecal and vaginal organisms. "Some garments were grossly contaminated with many organisms … indicating that either many people tried it or … someone tried it on with heavy contamination," he said. "In a sense, you are touching somebody's armpit or groin." He said these nasties can survive for weeks.
You could possibly contract a yeast infection, norovirus, or other stomach viruses and — super yuck — MRSA. And this is from a jacket or a blouse, not a swimsuit bottom that's hosted multiple crotches.
"But there's a hygienic liner," you say, and point to the flimsy strip of paper stuck to the business area of the suit. Not so fast, lady. According to Huffington Post, those little strips of paper are good for absolutely nothing other than making us all feel better. In Tierno's research, HuffPo says, the clothing with the highest bacterial and viral load were swimsuits and underwear. And the skimpier the swimsuit, the higher the bacterial load. Tierno says that the more "revealing the swimsuit, the more likely a woman is to remove her underwear before slipping it on." Some women also remove the liners.
The consequences of all these organisms having a party up in your crotch? HuffPo says the fecal bacteria Tierno found can carry hepatitis A or traveler's diarrhea. They reiterate that MRSA is a (unlikely, but still possible) danger, as is streptococcus, which can become — worst-case scenario — flesh-eating bacteria. Awesome!
Bonus: Salmonella can also live on swimsuits, according to Tierno.
However, the news isn't quite as dire as some people might think it is. Be Well Philly's "Ask a Top Doctor" says it's "extremely unlikely" that anyone would contract herpes or gonorrhea from trying on a suit. However, "crabs are highly communicable. If you were to try on an infected swimsuit without wearing underwear that adequately covers your privates, you could wind up with very annoying guests." Never mind. "Extremely unlikely" isn't unlikely enough, so that's still pretty dire.
Excuse me while I itch my crotch, because phantom itching is a real thing.
What isn't dire, however, is the news that, no, you cannot contract HIV from the crotch of a previously worn bathing suit. So says Dr. Edward W. Hook, MD, on the MedHelp answer forums. Transmission this way, he says, is impossible and has never occurred. So, that's one thing you don't have to worry about.
One thing in a slew of other things you do have to worry about — and I'm saving you from the gross stories from sales clerks, which basically all boil down to, For the love of all things holy, wear your fucking underwear, folks.
If you rub your junk where others have rubbed theirs, you put yourself at risk for gross infections. And even if you don't get an infection, it's totally disgusting to try on a bathing suit without your undies. In fact, you should try them on with undies, go home, and wash your undies. And your hands. Wash your hands really, really, really well. Then wash that bathing suit you bought before you put it on. Because there's more grossness in swimsuit crotches than you ever believed possible.
Have some respect for your fellow woman, and leave your own crotch covered when trying on bathing suits, from now until eternity. Thanks.
This article was originally published on