Turn Store Bought Meatballs Into Delicious, Cheesy, Mouthwatering (You Get The Idea!) Sliders.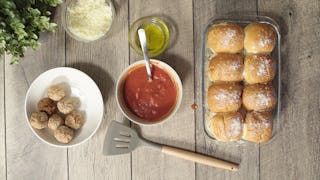 You can never have enough cheese. Literally, never. Now, add some meatballs and sauce and you've got yourself a meal everyone loves! All you need is 20 minutes and a hungry family. Our guess, you've got both!
[ss_featured_video]
Makes: 12 Sliders
Prep time: 10 minutes Total: 20-35 minutes
Ingredients
12 slider buns
12 meatballs, cooked 2 cups tomato sauce 2 cups shredded mozzarella cheese 3 tablespoons parmesan cheese 2 tablespoons olive old
Directions
1. Pre-heat oven to 350 degrees Fahrenheit.
2. Place slider buns in casserole dish 3. Spoon sauce on each bun, place meatball and add more sauce 4. Cover meatball in mozzarella cheese 5. Place top buns to cover meatball and brush with olive oil 6. Sprinkle parmesan cheese on buns 7. Bake for 10 minutes (to melt cheese faster, cover with tin foil) 8. If needed, remove foil and bake for another 5-10 minutes
This article was originally published on