Before You Let Your Tween Or Teen Get An Instagram Account, Read This
by Brandi Jeter Riley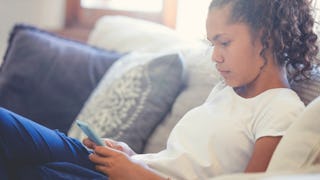 Getty | courtneyk
With its pretty pictures and funny challenges, Instagram is supposed to be the "safe" social media network for teens. Unlike Snapchat's secret disappearing messages, everything you do on Instagram is out in the public. Facebook is for old people. Twitter is filled with neo-Nazis and angry misogynists. YouTube can get downright weird. Basically, all of those other social media networks are a madhouse. A free for all.
Instagram, though? It's different.
Instagram has #ManCrushMonday and #WomanCrushWednesday. Real people use Instagram, so there's none of that wild content you see everywhere else. At least, that's what we think.
It's also heavily monitored. So much so, that it's only been a few years that pictures of breastfeeding babies have been allowed on the site. As a parent, if you were going to let your kid get on any platform, it should be Instagram, right?
Nope. Not at all.
I like Instagram. I could even say I love it. As an adult who uses social media for a large part of my professional life, the picture app is an opportunity to escape the drama of Facebook and Twitter. I've curated a feed that brings me joy, and it's truly my happy place online.
But it's completely different for teens, especially young teens.
In Social Media, Social Life: Teens Reveal Their Experiences, a recent report by Common Sense Media, teens were surveyed and interviewed about the way they use social media. A 15-year-old girl who participated in the study said, "Instagram doesn't care how you use their app, they just care if they're getting used. If you're posting and being active, that's all they care about."
She's right. A quick look at alarming hashtags like #anathinspo, glorifying anorexia and being very thin, and #selfharm — which shows disturbing images and messages that even the app knows could be harmful, according to a gentle warning that's displayed before the images show up — prove this statement to be true.
Oh, and did you know that your child can view porn on Instagram? Yup. All your teen needs to do is stumble onto one unsavory hashtag, and it will be like falling into a rabbit hole of x-rated pictures and videos. Although nudity is against the network's terms of service, users are relentless and upload everything from personal nudes to reposted videos and even revenge porn. The worse part is, you wouldn't even be able to stop your child from having access to this content. There's no content blocking on Instagram. It doesn't have an adult content filter at all.
As if promoting self-harm, eating disorders, and porn wasn't enough, bullying is prevalent on the platform. Last year, over 10,000 youth between the ages of 12 and 20 were surveyed in the UK about cyberbullying by Ditch the Label, an anti-bullying organization. Almost half (42 percent) of the survey participants said that they were bullied on Instagram.
Bullying is made easier with "finsta" accounts, or fake profiles that users create to interact anonymously with their peers. In some cases, fake profiles are made using the information of a teen's classmate. They'll then post inappropriate status updates or send nasty messages as the classmate. People who see the account assume it's real and react negatively towards the teen online and in real life. This can be absolutely devastating for a teen, especially a young teen. In many cases, the bully doesn't even realize the level of harm that could come from their actions. That's why they're just not ready for the responsibility of a platform with this type of influence.
I know that it's hard to stay strong when your kids are telling you that everyone else is doing it, but it's important to make choices that are going to help your teen thrive and be safe. You are the parent. You make the decisions. If you do choose to let your young teen get an Instagram account, there are few things that you can do to keep them safe. You're going to have to engage with them and actively participate in their interactions, but it can be done.
– Talk to your teen about the dark side of Instagram. Don't let them find out about it on their own.
– Have conversations about what's appropriate content and behavior on the platform and what's not.
– Discuss the implications of participating in harmful behavior, and make sure they understand that anything they do online can affect their lives offline.
– Check their phone regularly and look at who and what they're interacting with on Instagram.
– Be strong enough to take away the privilege of Instagram if your teen doesn't adhere to the rules and guidelines that you set.
Being a teen is difficult enough, even without Instagram. Social media adds another layer of challenges to work through. Make it easy on your kid and delay their entrance into the wild world of Instagram until they're older and better able to manage their own behavior and that of their peers. Instagram will still be there when they're more mature. And then, they'll be able to really appreciate the pretty pictures and bypass all of the junk.