These Tweets Show The Fiery Force That Is Women Supporting Women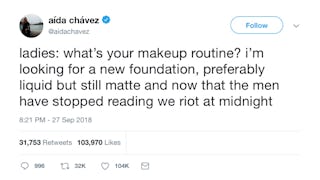 Aída Chávez/Twitter
It's a tough time to be a woman right now. Our political leaders have just laughed in our faces, mocked our pain, and given the middle finger to equality. Meanwhile, we're forced to watch another entitled, rich, white man rise to the top. Blegh.
We're vulnerable, angry, and fed the fuck up. Our rage is at peak level, but so is the sadness. We're basically walking around ready to either burst into flames or sobs at any moment.
So circle up, friends. Because women supporting women is about the most badass thing we can do right now. And if you need proof, look no further than Twitter.
First off, we're never too young for #girlpower.
And we're there for each other during those tricky times.
And when we need a little help from our friends (or a stranger).
We've got each other's back.
We are always looking out for each other.
We know when one of us needs a pick me up…
Or a little beauty advice.
And when the times comes to unleash our fierce, badass rage on the world, we know what to do.
And we're there with reinforcements.
We're ON IT.
https://twitter.com/jetpack/status/1046196347987156992
Follow the bat signal, folks. Favorite foundation and lip gloss optional.
This article was originally published on