This 12-Year-Old Rock Machine Is Korn's Newest Bassist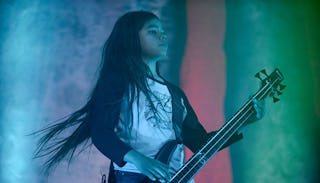 Image via RAUL ARBOLEDA/AFP/Getty Images
Korn's newest member is a pint size rock machine
Remember when you were in middle school and played guitar on stage in front of thousands of people with a super popular rock band? No? Well, that's probably because it's virtually unheard of—until now.
Tye Trujillo is just your average 12-year-old middle schooler, except he is currently touring with the nu metal band, Korn. If you don't remember Korn, they ruled the airways of MTV's TRL back with Carson Daly in the late '90s and early '00s. They won a couple of Grammy's including Best Music Video in 2000 and a slew of other nominations for Best Metal Performance.
Earlier this month, Korn announced they had recruited an unexpected new member, the son of Metallica's bassist, Robert Trujillo. Little Trujillo obviously inherited his dad's musical talent and luxurious rocker hair, a perfect length for head banging as he absolutely shreds on his guitar, breaking a new generation of hearts in the process.
Most middle schoolers are still trying to find themselves and figure out where they belong. Trujillo seems to have that part nailed, standing confidentially on stage in front of legions of fans like he's been there for years. Well, actually, he has been.
The young bassist has his own band, the Helmets, an alternative rock group he has been playing in since the age of eight. Because, of course. His band, based in California, has toured on Kidsapalooza (part of Lalapalooza) stages from Chicago to Chile. When the band isn't playing, all four members under the age of 12 "like to surf and skate," according to their web page.
Tye says his musical inspiration comes from "Alice in Chains' 'Black Gives Way to Blue' and tool's '10,000 days'. I remember listening to those albums when I was 5 years old," he says on the site. He remembers listening to those when he was five. We just can't even with this kid. He brings coolness to an entirely different level.
Trujillo won't be replacing their longtime bassist Reginald "Fieldy" Arvizu, who had to drop out of their South America tour for "unforeseen circumstances," Korn said on Facebook. But he will be playing right alongside them until May 6 — an amazing accomplishment for a kid his age. When you watch him on stage, its clear Trujillo will be rocking it for many to come.
This article was originally published on