Twins Sharing One Placenta: A NICU Mom's Story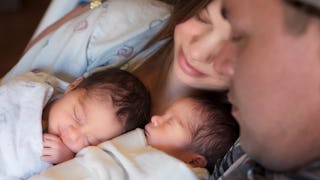 Jill Lehmann Photography / Getty Images
Finding out that you're going to have a baby is one of the most exciting times in your life. When you discover that you're carrying twins, the thrill is intensified — as are the risks for complications and challenges during the pregnancy.
Rachel Buckley is the mother of twin girls. Diagnosed early in her pregnancy with monochorionic diamniotic pregnancy (MoDi), she learned that her babies were sharing one placenta with two amniotic sacs. While she never expected to go through a high-risk pregnancy, she was fortunate to find a partner in her doctor Julian Robinson at Brigham and Women's Hospital who made sure she never felt alone in her journey.
I had a chance to speak with Rachel about her experience and was blown away as she told the story of how her babies came into the world.
Early Clues
"I found out I was pregnant in June of last year. I was 6 weeks, but we couldn't hear a heartbeat for a while," Rachel says. "At 12 weeks, I had an ultrasound. We couldn't see the second twin at first because of my retroverted uterus. After a transvaginal ultrasound, I was told that I had a MoDi pregnancy. With the unequal placenta sharing, one twin always gets smaller. We needed to keep a close eye on things. I also had signs of hypertension and signs of preeclampsia coming in."
Not Every Hospital Is the Same
With that diagnosis, Rachel expected to receive a higher level of care. Unfortunately, she was unsatisfied with what her provider offered so she began looking for another facility that could better serve her needs. "I was overwhelmed with all of this information, but the hospital I was at before I ended up at Brigham didn't seem that interested in helping me."
Then a friend suggested she check out Brigham and Women's Hospital, and she reached out to their division of maternal-fetal medicine.
Experienced and Personal
After a not-so-great experience with her first hospital, Brigham and Women's Hospital was a totally different experience for Rachel. "They rolled out the red carpet for me. I felt like a VIP."
"My first meeting with Dr. Robinson was spectacular. He's done one of the premiere studies on MoDi twins and the outcomes they're able to have. He is also a huge proponent for vaginal birth, even though it's tricky business. He encourages women to look at many options. He's very data-driven, and that was really impressive!"
Rachel was also impressed by the nurse in Dr. Robinson's office. She says, "Lucy was just so personal and connected. She had so much empathy for me and my situation. The two of them together is just an amazing combination."
The Delivery That Wasn't Planned For
After a self-imposed two-week bed rest, Rachel went in to the hospital for a scheduled stress test at 34½ weeks pregnant. Within a couple of hours, another doctor called because there was concern about the test results.
Rachel recounts the day she delivered her babies: "The doctor called about the stress test and said it didn't look good. We needed to get the babies out that day. I had an emergency C-section at midnight. Dr. Robinson wasn't there, but still, every single person we saw was phenomenal. The girls came out within a minute of each other, and at no point did I feel like it was an emergency C-section."
This Is What It's Like in the NICU
"One of our girls was in the Neonatal Intensive Care Unit (NICU) for two weeks, and the other for three weeks. At the beginning, they were forgetting to breathe. It was heartbreaking to watch as a parent. Your babies are covered in machines, and you're disconnected by plastic. It was hard to see for a few days," says Rachel.
But Rachael emphasizes that the medical team was extra mindful of her experience as an NICU parent. "Every time I came in, they were delighted to see me," she says. "They were so lovely with the girls. They would treat them like their own daughters. I felt like they were part of the family. They would hold the girls for me. If the babies were struggling to sleep, they would sit there rocking them. I knew that even if I wasn't there they were being loved and cared for."
NICU Babies and Parents Need Extra Support
Not only were the nurses caring for the babies, they also spent a lot of time teaching Rachel and her husband how to take care of their special babies. "When we weren't doing skin-to-skin, they would be teaching us how to do things. They would always make us change diapers. We would get up for temperature check so that we learned how to handle the girls. When we finally got home, we knew how to do everything."
Rachel goes on to say, "They gave us so many things like formula, bottles. We had our crib set up in the right way. We came home more competent parents because of the staff in the NICU."
Families Start at Brigham and Women's Hospital
So, how are Rachel's girls doing now? "The girls are doing extremely well," she says. It started with the NICU connecting Rachael with resources for early intervention as well as a pediatrician. Rachael gushes a bit about her sweet babies: "Isla is a quiet but observant baby. She has amazing blue eyes. You work harder for her smile, but when she does it melts you. Vanessa looks like a doll. She smiles at everybody and is really chatty. They are two of the most beautiful little girls."
Rachel then says, "Brigham and Women's Hospital started our family story. We couldn't think of it beginning any other way."
Learn more about Brigham Health on their website at yourbaby.brighamhealth.org.
This article was originally published on