This Free 'Mister Rogers' Marathon Is A Parent's Dream Come True
by Valerie Williams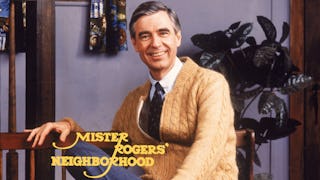 Image via Hulton Archive/Getty Images
Burnt out on Paw Patrol? Mister Rogers to the rescue!
Have you had enough of "Paw Patrol" and "Bubble Guppies?" Will hearing the "Daniel Tiger" theme song one more time put you over the edge? We totally hear you, and apparently, so did PBS Kids and Amazon, because they're giving parents a wonderful gift: an 18-day Mister Rogers marathon.
The best part? It's free!
According to Variety, Amazon-owned video service Twitch is offering a "Mister Rogers' Neighborhood" marathon, starting May 15th at 12pm PST. Over 18 days, all 886 episodes of the beloved children's series will be live-streamed.
Even better, the marathon will feature several episodes that have aired just once and aren't available anywhere elsewhere online. As if that's not cool enough, it will kick off with Fred Rogers' famous testimony in 1969 before a U.S. Senate committee about the value and importance of PBS.
Though the episodes will be available for free, Twitch also will run a fundraising campaign for viewers to donate to their local PBS station. As many parents know, there are few causes more worthy.
Paul Siefken, president and CEO of the Fred Rogers Company says, "Fred Rogers created a blueprint for children's television that still works today, and his messages of acceptance and inclusion remain just as timeless and relevant as they did when 'Mister Rogers' Neighborhood' first aired. We are delighted to be working with Twitch to make the show available to fans, as well as reach a whole new whole new audience that did not grow up watching the program."
For those of us who grew up listening to the soothing voice of Fred Rogers as he walked us through all kinds of childhood troubles, the idea of our own kids experiencing his brand of magic is pretty wonderful. I have shown my kids a handful of episodes from a friend's DVD collection and they were just as entranced by Rogers as I remember being as a child. His lessons are timeless, and his calm demeanor is one we can all benefit from absorbing.
So, give yourself an 18-day break from the usual kiddie shows you can't escape and enjoy a nice dose of nostalgia. You can find the episodes here starting tomorrow through June 3rd.
This article was originally published on