Hilarious Twitter Account Shares The Most Ridiculous Posts From 'Nextdoor' App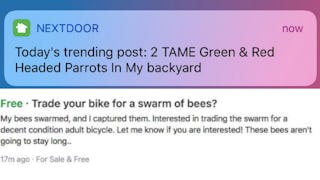 Image via Twitter
If you thought the neighborhood drama on your Nextdoor social network was funny, check out @BestofNextdoor for the best posts in the nation
The Nextdoor social media platform is great for connecting with other families in your neighborhood, finding out when the next street-wide yard sale is, and helping your elderly neighbor find a few good samaritans to mow her lawn. But anyone who's been on the app or website knows that it's also a fine spot for laughs — from the two guys down the street who have an ongoing conflict over an apple tree to the woman who is suspicious of every single vehicle driving by that she doesn't recognize.
The Twitter account @bestofnextdoor collects all of the best posts from the neighborhood forums — and they're just as hilarious as you might think. Not only that, @bestofnextdoor also brings just the right amount of snark to go along with them, from posting the most non-urgent "Urgent Alerts," to gentle reminders that Nextdoor is not a dating site, to sharing prime examples of how Nextdoor is Twitter for old people. We're pretty much howling over these amazing posts.
What happens when you need a corgi for a couple of hours, for a Royal Wedding viewing, but can't find one? Hop on Nextdoor and ask around.
There's nothing like a neighborhood dispute over a WIFI network name. And of course this man felt the need to write out ALL COPS ARE BUTTHOLES twice during his post.
Here's probably the best noise complaint that has ever been published:
Not sure why this one wasn't posted under the "Urgent Alerts" section:
And here's even more blatant criminal activity that was posted as an Urgent Alert:
But honestly someone might want to look in to this:
And this post is just about neighbors helping neighbors by requesting that some of them put themselves up for a potential dog attack:
Definitely, if you see Satan's taillights on a school bus, post that to Nextdoor as soon as possible.
Also be sure to report anything that could be cult activity:
Many of the best posts are about animals. Like take a look at this big cat sighting:
Is this a post from Nextdoor or a text from your favorite aunt?
And don't forget to post if you've lost a inflatable remote control shark — because remember; your neighbors always have your back: