Twitter Begs 2016 To Leave Betty White Alone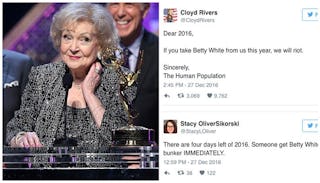 Image via Jesse Grant/ Getty Images/ Twitter
In the wake of so many celebrity deaths, Twitter vows to protect Betty White
There's a saying you may have heard when a celebrity or two passes: "It always comes in threes." This is ominous, but somewhat comforting because it implies that there is eventually an end to our heartbreak and panic.
Well, 2016 has no fucks to give. It has not heard this saying — or just doesn't care, because it's the year from hell.
We lost Prince, David Bowie, Gene Wilder, Phife Dawg, Florence Henderson, Leonard Cohen, Alan Rickman… then George Michael. Then Carrie Fisher?! The internet wants to bubble wrap Betty White. And we don't blame them.
Someone even went as far as to set up a crowdfunding page to keep her safe.
We've had the rug pulled out from under us too many times this year. We're kind of losing our minds.
Yeah, we know. We all die eventually, circle of life, blah, blah, blah. Keep your hands of Betty White, 2016.
Sincerely,
Everyone
This article was originally published on