Twitter Is Practically Glowing Over Taylor Swift's Album 'Folklore'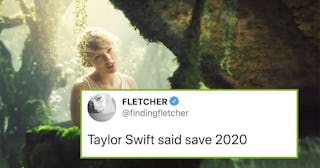 findingfletcher/Twitter and Taylor Swift/Youtube
Last week, Taylor Swift surprised the world when she announced the surprise release of her latest album. Which means that while the rest of us were baking bread or crying ourselves to sleep during quarantine, Taylor Swift was recording her latest album. This just proves that it's Taylor's world and we're just living in it.
Not surprisingly, Twitter has been practically glowing since the announcement was made and the album dropped.
Celebs can't get enough of Folklore.
I mean, we all needed this. 2020 needed this. She is saving us all.
We've witnessed the evolution of Taylor Swift over the years, but this album takes it to new levels.
Folklore is basically the soundtrack for everyone from Gen Z to Xennials.
And who could have expected a collaboration with Taylor and Bon Iver?
Then there is the Easter egg of "Betty" — OMG!
The music on Folklore is more than songs; it is magic and we can't stop telling everyone about it.
And she did all of this basically in secret.
After listening to Folklore, you almost have to ask yourself: Is Taylor Swift a human or a goddess? (Answer: goddess)