This False Advertising Hotel Pool Fail Has The Internet In Tears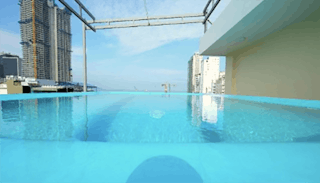 Image via Twitter/Booking.com
This pool photo proves just how important the right angle can be
Many things in life seem better in our minds than they actually are in reality: becoming an adult; getting a new job; taking your kids out to dinner; having kids in the first place (who said that?). But one woman's "expectation vs. reality" during a recent vacation may just take the cake.
"Our hotel pool in Vietnam," Twitter user Jenny Kershaw wrote. "Booking.com VS reality. We've been done there." Kershaw posted two poolside pictures next to one another. The one on the left looks gloriously inviting and you could picture yourself swimming laps for hours in the sun. The second and actual pool looks like something you sit in right before you're murdered in a horror film. There are no laps to be had in that puppy. But hey, at least it has a giant step ladder, because safety first.
Insider Magazine apparently reached out to Booking.com after they saw Kershaw's tweet for explanation and the company representative told them more than "150 million verified reviews left by real guests that customers can reference to get an authentic impression of the actual experience at each and every place to stay on [its] platform." They also said if there's ever a disconnect between what customers say and what the facilities claim is reality, they take "the matter seriously," which looks to be true.
Booking.com reached out to Kershaw on Twitter to see what they could do to remedy Operation Dollhouse Pool and help her file a complaint, should she so choose.
Kershaw, ever the good sport, responded that she didn't wish to file a grievance with the hotel, she just thought the whole thing was pretty comical. Though she did point out the hotel obviously updated their picture to make sure future guests managed their expectations a little better.
https://twitter.com/jetpack/status/996327798112305152
That didn't stop Twitter from having a field day with this, sharing comments and pictures of their own travel fails:
https://twitter.com/jetpack/status/997245737296576513https://twitter.com/jetpack/status/997217821921894400
And this one wins the internet, today:
Can you imagine if you were traveling with your children? "OK kids, get your suits on. Who's ready for a cannonballlllllll OMG just kidding please for the love of god do not step foot in there."
Obviously, it pays to read the reviews before selecting a hotel to make sure the things that are important to you actually exist and do so in a size that's acceptable.
Hopefully the rest of Kershaw's trip was filled with adult-sized pools made for actual adulting. And plenty of adult drinks.
This article was originally published on