This Is The Ultimate '90s Nostalgia Music Playlist
by Sa'iyda Shabazz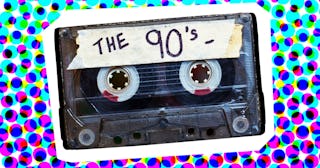 Scary Mommy and MarkPiovesan/Getty
In terms of pop culture, everyone loves the '90s. Some of our favorite things are products of the '90s, from shows like Friends, to movies like Clueless, to musicians like Shania Twain. And now, many of the things we love from the decade are making a comeback in a big way.
So, if you want to take a stroll down memory lane in your Steve Madden sandals, may I present to you the ultimate '90s playlist for all your nostalgia needs.
Somehow, the songs on this playlist are at least 20 years old. Others are pushing 30. You don't think you're old, and then you hear "Buddy Holly" on the classic rock radio station. All of my favorite playlists on Spotify have words like "throwback" in the title. But I refuse to believe that it was almost 25 years ago that I spent hours learning Left-Eye's rap in "Waterfalls."
Unlike previous decades, most of the biggest hits from the '90s aren't rife with problematic themes and lyrics. Some of them are filled with innuendo that we may not have realized (take a listen to the lyrics of Third Eye Blind's "Semi Charmed Life" again). Songs like "Rape Me" by Nirvana are considered insensitive. And Aaliyah's song "Age Ain't Nothin' But A Number" takes on a whole new meaning in light of the R. Kelly documentary. But you can listen to the songs on this playlist with minimal guilt — and maybe drive your kids bonkers in the process.
1. "I Want It That Way," Backstreet Boys
Whether you like '90s boy bands or not, you can't make an ultimate '90s playlist without including this song. "I Want It That Way" is the lead single from the Backstreet Boys's second album Millenium. It totally changed the game for boy bands for the rest of the era. You couldn't escape the song — even your grandma was probably singing "tell me why" just like Nick Carter. To this day, it's one of the '90s teen pop songs everyone knows. And if you want to feel really old, know that it was released 20 years ago.
1. "Believe," Cher
Even though it's totally mainstream now, Cher's "Believe" was the first song to use auto-tune. But "Believe" is also a song about rebirth, which Cher knows a thing or two about. Twenty years later, the song is still as iconic as its singer, who is still going. By the time "Believe" came out, Cher's career had been going for 30 years. But with this track, she became the oldest woman with a number one single on the Billboard charts. And we're still dancing to it in the club like we were in 1999.
3. "I Will Always Love You," Whitney Houston
Whitney Houston's version of "I Will Always Love You," from the soundtrack to the movie The Bodyguard, is her biggest hit. The song, which many of us will admit to warbling along to in a broken-hearted haze, is actually a Dolly Parton cover. Houston's version was number one on the Billboard Hot 100 chart for 14 weeks and is her best selling single. Actually, it's the best selling single by a female artist of all time — as of January 2013, it's sold over 20 million copies worldwide. After Houston's death in February 2012, the song soared back to the top of the charts.
4. "Smells Like Teen Spirit," Nirvana
You can't have an ultimate '90s playlist without including "Smells Like Teen Spirit." Nirvana is responsible for bringing the grunge style and alternative music to the mainstream. Kurt Cobain remains an icon and inspiration for the angst of Gen-Xers everywhere. There are few songs that can encapsulate an entire culture in five minutes, but "Smells Like Teen Spirit" does just that. And that is why it's still popular, 28 years since its release.
5. "Livin' La Vida Loca," Ricky Martin
Latin music has been popular in America for decades. But when Ricky Martin released "Livin' La Vida Loca," he opened the door for more Latin artists than ever before. Think about it: without Ricky Martin's success, we wouldn't have artists like Enrique Iglesias and Marc Anthony. Alongside the frenetic music video, the song is the thing that not only made Martin a household name, but also a sex symbol. To this day, the song is sure to get you up dancing and shaking your booty.
6. "Waterfalls," TLC
When you're making an ultimate '90s playlist, picking just one song by TLC is really hard. It's a toss-up between "Waterfalls" and "No Scrubs," but I'm a sucker for early '90s TLC, so "Waterfalls" it is. While we always remember the chorus, "don't go chasing waterfalls / please stick to the rivers and the lakes that you're used to," the song is quite profound. It discusses drugs and it was one of the first songs to explicitly acknowledge AIDS as an epidemic. "Waterfalls" is also one of the most iconic music videos of all time, with the members of the group warping into liquid versions of themselves.
7. "Don't Speak," No Doubt
"Don't Speak" is, without a doubt, one of the best '90s breakup songs. Gwen Stefani wrote it after the dissolution of her seven-year relationship with bandmate, Tony Kanal. While No Doubt had success prior to this song, this is the one we all associate with the band. "Don't Speak" catapulted the band into superstardom, making Gwen Stefani a style and pop culture icon.
8. "Vogue," Madonna
Madonna has always been an icon, but nothing she's ever done is more iconic than "Vogue." Inspired by the underground drag ball culture of New York City, the song pays homage to the popular dance style. Prominent members of ball culture feature heavily in the black and white video, directed by David Fincher. During the song, Madonna lists big-name actors from the Golden Age of Hollywood, including James Dean and Marilyn Monroe. While Madonna has released many hits since, "Vogue" will always be her most popular.
9. "Wannabe," Spice Girls
When "Wannabe" came out, the world was changed. For many of us '90s girls, the Spice Girls represent something we had never seen before. Five loud, outspoken, unapologetically feminine women who also kicked ass. Just listen to the lyrics of "Wannabe" and see how few fucks they have to give: "if you really bug me, then I'll say goodbye!" This song belongs on the ultimate '90s playlist because it's a girl power anthem, even to this day.
10. "…Baby One More Time," Britney Spears
As soon as you hear that "dun dun dun," you know what's coming. But back in 1998, we did not know that Britney Spears was about to completely blow our teenage minds. Written by Swedish songwriter Max Martin, who is a pop music genius, "…Baby One More Time" was scandalous. The original title "Hit Me Baby One More Time" was changed because record people were worried about domestic violence accusations, but Martin meant "hit me" like "hit me up," which was a popular phrase. Whatever the meaning, you cannot have an ultimate '90s playlist without Britney Spears.
11. "Ironic," Alanis Morissette
Yes, it's true. Nothing in the song "Ironic" is actually ironic. But that didn't stop us from screaming out the chorus to Alanis Morissette's most famous song. Morissette's album Jagged Little Pill is the soundtrack to many an early '90s girl's angst. Every single from that album still bangs, but "Ironic" will always be our favorite karaoke tune.
12. "Baby Got Back," Sir Mix-A-Lot
"Oh my God Becky look at her butt…" If you hear those words, you know exactly what song is coming next. Sir Mix-A-Lot's anthem to a full posterior must be on any ultimate '90s playlist. Many critics at the time found it to be demeaning and overly sexual, but Sir Mix-A-Lot and Amylia Dorsey's point was to empower women of color, especially black women. Challenging standards of beauty makes this song even more iconic than Sir Mix-A-Lot rapping on a giant pair of butt cheeks.
13. "My Heart Will Go On," Celine Dion
Titanic is one of the most iconic romantic histories of all time. But even more iconic than Leonardo DiCaprio and Kate Winslet having sex in the back of that car is Celine Dion's love song. "My Heart Will Go On" is Dion's signature song, no doubt about it. It is arguably the most popular song of 1998, and won a ton of awards, including the Academy Award and several Grammys. Even now, 20 years later, you can't hear it without singing along to the sweeping climax, even if you're no Celine Dion.
14. "No Diggity," Blackstreet
"No Diggity" has to be on the ultimate '90s playlist because you can't hear it without wanting to snap your fingers. Plus, the phrase "no diggity" became part of the cultural landscape. Meaning, "yes, absolutely," often paired with "no doubt." The song, featuring Dr. Dre and '90s super producer Teddy Riley, was number one on the Billboard Hot 100 chart. In an interview back in 2010, Teddy Riley admitted that none of the other members of the group wanted to record the song, which is why he sings the first verse. Once it became a hit, they all regretted their initial reaction.
15. "Always Be My Baby," Mariah Carey
Mariah Carey is one of the best selling female artists of the '90s. And while she has plenty of hits, none stand out quite like "Always Be My Baby." The sweet song about heartbreak has underscored many wistful singalongs. And if you need more proof of the song's staying power, it was recently used over the end credits of Always Be My Maybe, a Netflix movie starring Ali Wong. The film's title is also a play on the song.
16. "The Boy Is Mine," Brandy & Monica
A go-to karaoke duet for the ages, "The Boy Is Mine" by Brandy and Monica is pretty much mid-'90s teen R&B in a nutshell. Whenever you sing it with your friends, everyone argues over who's going to be Brandy and who's going to be Monica. Both singers were at the top of their game, and the video, starring super hottie Mekhi Phifer is iconic. But the best part is when they kick him to the curb!
There you have it — the ultimate '90s playlist. You're welcome!
This article was originally published on