An Ultrasound Tech Reveals How She Handles Telling Folks That Something Is Wrong
by Elaine Roth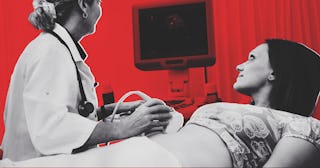 Scary Mommy and Alexander Raths/Shutterstock
I remember my first ultrasound. I remember lying on that little exam table, my husband by my side, and splitting my attention between the glowing image on the screen and the ultrasound technician's face. My excitement ebbed and flowed based on micro-expressions I thought she was making—though in reality, she remained professionally stoic.
I remember asking her if everything was okay and then holding my breath waiting for the answer. I remember the relief when she said everything looked good, when she smiled and began to identify what I was looking at.
After my husband and I left the ultrasound appointment, I didn't give the technician much thought. I didn't think about who might be coming into the room after me or who might have been in before.
After a Facebook video posted by Alicia Gatz, a diagnostic medical sonographer, I can't stop thinking about it.
In the video, set against a song called "Grace Kelly" by Mika, Gatz discusses her job, starting first by calling it amazing and saying she's "blessed to look at fetus in utero every day."
Then, the heartbreaking portion begins. She writes, "Until days like today."
On the day Gatz posted the video, which as of this writing has been viewed more than 2.3 million times, she scanned a 38-week fetal demise. She was the first in the room to realize that the ultrasound revealed devastating news.
She wrote, "Today I hugged a mom while she quivered with sadness. Today I reassured her countless times she did nothing wrong. Today I held back tears and remained strong till she left the room. Then I sat and composed myself before my next happy mom who was only interested in the baby gender."
In those few words, Gatz offers a powerful inside look at the often unsung heroes who have a difficult job and have to swing between grief and support to optimistic and celebratory very quickly.
Holding space for a stranger's grief and then moments later holding space for another stranger's joy takes a strength that's taken for granted.
Often, until we're on the other side, until we're the people who need support rather than celebration, we don't truly even realize that rooms where good news is delivered are the same rooms where bad news is delivered. Or the people delivering the good news are the same people delivering the bad news.
Gatz drew attention to those people, and the emotional capacity their jobs require.
In an interview with TODAY Parents, Gatz described what happens when she sees an abnormality on an ultrasound.
"I almost go into robot mode," she said, which makes sense. Gatz needs to collect information—measurements and images—to give to the doctor. She can't give in to her sadness, or reveal it to the patient in front of her. No doubt any person sitting in an exam room is studying the technician's face, searching for evidence that everything is okay. Even the slightest micro-expression, could be the reason a patient begins to fall apart, which could make it difficult to collect that crucial information.
It's only after she's done with the technical part of her job that the other part can begin.
She told TODAY Parents, "When I'm done, I'll reach down and touch her. It's a way of connecting. Then I'll say something like, 'Things don't look quite the way I expected them to look, so I'm going to go get the doctor.'"
"I want them to know that I'm a real person and I care about them," Gatz said. "These women stay with me long after I've left the room."
Because it's 2021 and social media and even the most well-intentioned sentiments get picked apart—folks criticized Gatz. They claimed she was judging the mom who was interested in the baby's gender on the ultrasound. That's obviously not what she was doing. Still, Gatz had to explain herself.
"What I was trying to say, is that I have to recompose myself quickly after I see a loss," Gatz told TODAY Parents. "I have to come into the room chipper and excited even though my heart is still broken for the mama that just got awful news."
Of course Gatz wasn't judging the second mom for celebrating her ultrasound. In fact, it's obvious what Gatz was doing was making space for the second mom to celebrate. If Gatz had come in somber, tear-stained, the second mom would not have been able to celebrate. Her moment would have been hijacked by grief. Instead, Gatz composed herself and did the hard work of making more space in her emotional bandwidth to support an emotion on the opposite end of the spectrum.
Gatz wasn't judging anyone. She was giving a real life example of how her job required wild emotional swings. One mom needed to be held in grief. The other needed smiles and excitement. Gatz wasn't at all passing judgment on either mother.
Most people in Gatz' profession don't last long. Gatz has been at her job for a decade.
"You're the first to know when something is terribly wrong," Gatz told TODAY Parents. "It takes a huge emotional toll, but I know I've found my calling."
I've been in my share of doctor's offices when hard news had to be delivered. I've been held in grief by strangers in lab coats. To this day, I have a soft spot in my heart for the technicians, doctors, and nurses who sat in my grief with me, who didn't treat me like an item on their to-do list, and who deserve every ounce of recognition for the work they do. As a result, I can confirm that the kindness shown by Gatz is never forgotten. And I hope she — and people with jobs like hers — knows what a difference their capacity for empathy truly makes.
This article was originally published on