Uma Thurman Shares Gut-Wrenching Harvey Weinstein Story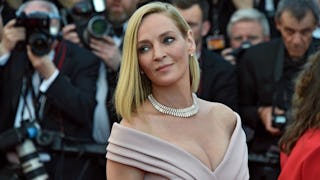 Image via Kommersant Photo/Getty
Uma Thurman is now ready to talk about why she's angry
Uma Thurman, who collaborated with Harvey Weinstein on seven movies, told The New York Times that the disgraced producer attacked her, exposed himself to her, and threatened to destroy her career. Her story is undeniably gut-wrenching and makes one wonder — once again — how this guy has not ended up in prison.
Thurman has strongly hinted she's got her own Weinstein story to share for awhile. When asked by Access Hollywood about Weinstein, she said: "I don't have a tidy soundbite for you, because I've learned — I'm not a child, and I've learned that when I've spoken in anger I usually regret the way I express myself."
Later, she took to Instagram and wished everyone a happy Thanksgiving, except "Harvey, and all your wicked conspirators. I'm glad it's going slowly – you don't deserve a bullet. Stay tuned."
Thurman told The New York Times that Weinstein first came onto her during a meeting in his Paris hotel room. She says he removed his robe and asked her to come with him down the hall.
"Then I followed him through a door and it was a steam room," she recalled. "And I was standing there in my full black leather outfit — boots, pants, jacket. And it was so hot and I said, 'This is ridiculous, what are you doing?' And he was getting very flustered and mad and he jumped up and ran out."
Weinstein later reportedly attacked her in his London hotel room. "He pushed me down. He tried to shove himself on me," she said. "He tried to expose himself. He did all kinds of unpleasant things. But he didn't actually put his back into it and force me. You're like an animal wriggling away, like a lizard. I was doing anything I could to get the train back on the track. My track. Not his track."
Is your blood boiling to dangerous points already? Unfortunately, the story gets worse.
The actress decided to confront Weinstein about the assault, and the producer allegedly responded by threatening to destroy her career. Through his reps, Weinstein told The New York Times that the two had a "a flirtatious and fun working relationship."
The statement added: "Mr. Weinstein acknowledges making a pass at Ms. Thurman in England after misreading her signals in Paris. He immediately apologized."
Oh hell no.
Thurman also divulged a truly horrifying anecdote about her Kill Bill director Quentin Tarantino bullying her into doing a car stunt that left her neck "permanently damaged." He also did the honors of spitting in her face and pretending to choke her during two different scenes.
"Personally, it has taken me 47 years to stop calling people who are mean to you 'in love' with you," she concluded. "It took a long time because I think that as little girls we are conditioned to believe that cruelty and love somehow have a connection and that is like the sort of era that we need to evolve out of."