Uma Thurman's Reaction To The Weinstein Scandal Is Breaking The Internet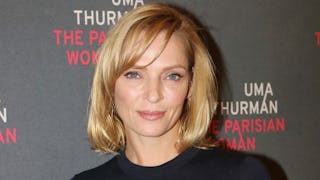 Image via Bruce Glikas/FilmMagic
Thurman's controlled anger is damn near terrifying
The allegations of rape, sexual harassment and abuse against powerful men in Hollywood have been inescapable in the news cycle throughout the last few weeks. Starting with Harvey Weinstein and trickling on down to famous directors like Brett Ratner, James Tobak, and actors like Kevin Spacey, women and men have been coming forward in droves to publicly denounce these abusers for what they are.
Uma Thurman was recently asked about her thoughts regarding the sexual misconduct happening within her industry finally becoming public knowledge.
Her response delivers nothing short of Kill Bill levels of rage.
"I think it's commendable," Thurman said regarding victims coming forward and speaking up. "I don't have a tidy soundbite for you, because I've learned — I'm not a child, and I've learned that when I've spoken in anger I usually regret the way I express myself."
Damn. That carefully controlled restraint though. Her anger is downright palpable, even if she isn't ready to give a specific statement quite yet. Since HuffPo's Yashar Ali first shared the video yesterday, Twitter has practically exploded with reactions to Thurman's response from fellow celebrities and victims alike.
https://twitter.com/jetpack/status/26854601101287424
https://twitter.com/jetpack/status/926887972246622210
https://twitter.com/jetpack/status/926851661460582401
YES. I'm a Leo and hoo boy, can I relate to the Nostril Flare Of Terror.
What a great observation. Uma probably handles her house like a boss.
https://twitter.com/jetpack/status/926884995028979713
https://twitter.com/jetpack/status/926837573984636928
She even got a shoutout from Asia Argento, a Weinstein victim and one of the brave actresses featured in the explosive New York Times article that broke the Weinstein story.
The steely stare, the terrifying-but-controlled rage, the nostril flare, and the seriousness with which she declares that she will speak — but on her terms and her terms only — is powerful. Personally, I can't wait to see exactly how she contributes her knowledge and her voice to this dialogue. (When she's good and ready, of course.)