These 'Mary Poppins' Movie Popcorn Bowls Are Practically Perfect In Every Way
by Christina Marfice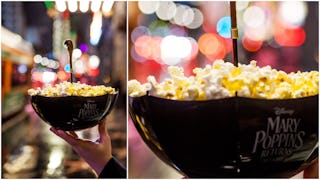 Image via El Capitan Theatre / Twitter
In case you needed another reason to run, not walk, to the premiere of Mary Poppins Returns, check out these collectable popcorn bowls
We already know that Mary Poppins Returns is going to be practically perfect in every way. Emily Blunt slays her role as the life-loving nanny, Lin-Manuel Miranda is an actual gift upon this earth, and Disney knows just how to tug on our nostalgic little heartstrings with these remakes of our childhood faves, which we now get to share with our own kiddos. But also, if you go to a premiere event, you can get some amazing swag. And who doesn't love amazing swag?
Reports are starting to roll out of all the collectable goodies you can get if you attend a Mary Poppins Returns premiere event at a bunch of major theaters across the country on Dec. 19. Among our favorites is this adorable upside-down umbrella popcorn bowl that you can get at El Capitan Theatre in Hollywood.
Attending the opening night fan event at El Cap gets you not only one of those bowls, but an exclusive artwork poster, a free drink, the movie soundtrack and a collectable gold heart pin. Folks who live in Hollywood are lucky ducks.
But word on the street (and by "the street," we mean Twitter) is that Cinemark theaters will also be carrying the umbrella popcorn bowls. They're so cute, we have to have them.
That's not the only swag that's up for grabs when this movie drops. AMC theaters are also hosting a special premiere night event for fans, and with your ticket purchase, you'll get a collectable gold heart pin and a download of the movie soundtrack. For those who prefer Regal Cinemas, a $9.99 combo deal gets you a drink and popcorn, both in special commemorative cups that feature Blunt as Mary Poppins.
All that's left now is to sit back, munch some popcorn and enjoy the show.
This article was originally published on