UN Study Says Home Is The 'Most Dangerous Place' For Women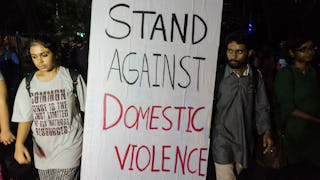 Image via Barcroft Media/Getty Images
While men are most often killed by strangers, women are most often killed by romantic partners and relatives
A new global study on homicide released by the United Nations Office on Drugs and Crime (UNODC) has found that the most dangerous place for a woman to be is in her own home. Specifically, across the world, about 58 percent of murdered women and girls were killed by husbands, partners, or family members.
The study, which was released on the International Day for the Elimination of Violence Against Women, found that of 87,000 females murdered in 2017, around 50,000 were murdered by people they know — supposed loved ones. All in all, more than one out of three murders are at the hand of intimate partners, while an average of 137 women per day are killed by family members.
In contrast, only about 18 percent of fatal murders between intimate partners were men.
While many of these murders are the result of physical abuse, they also included honor killings and dowry killings.
"Homicide represents the most extreme form of violence against women, a lethal act on a continuum of gender-based discrimination and abuse," said UNODC Executive Director Yury Fedotov. "As this research shows, gender-related killings of women and girls remain a grave problem across regions, in countries rich and poor."
Fedotov also called on governments across the globe to take steps not only to end the violence, but to study, track, and report it.
Other types of gender-related killings that the study specifically acknowledged were the killing of sex workers, the killing of indigenous women, the killing of queer women, and the killing of women in war-related conflicts.
The study also found that the highest rate of violence against women was found in Africa, followed by the Americas and Asia. The rate of violence in Africa was 3.1 victims per 100,000 women, followed by 1.6 in the Americas, 0.9 in Asia, and finally 0.7 in Europe.
Perhaps the worst news in the study is that fatal domestic violence against women seems to be getting worse, not better. Female murder victims have increased since 2012, and the percentage of domestic murders of women has risen from 48 percent to 58 percent.
The study called on governments to battle against this violence with improvements to their police departments, their criminal justice system, and their health and human services. They also specifically noted that men need to step up and make eliminating this problem a priority, not only by changing government systems, but by examining masculine culture and toxic masculinity.
"In order to prevent and tackle gender-related killing of women and girls, men need to be involved in efforts to combat intimate partner violence/family-related homicide and in changing cultural norms that move away from violent masculinity and gender stereotypes," it said.
On Sunday, demonstrations and marches took place around the world related to the International Day for the Elimination of Violence Against Women. In addition, world leaders spoke up about the issue.
Canada's Prime Minister Justin Trudeau released a statement that said, "Gender-based violence harms us all. It affects families, schools, and workplaces – and holds back whole communities from reaching their full potential."
President Donald Trump did not release a statement.
This article was originally published on