As A PhD Student, I Have Some 'Unconventional' Advice About College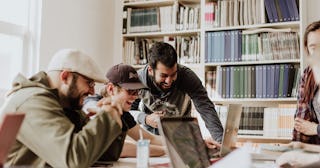 Priscilla Du Preez/Unsplash
Anxiety is the number one reason college students seek counseling. Rates are at an all-time high and continue increasing. If your child is coming home for spring break, try to avoid the anxiety-inducing questions like "did you pick your major yet" and "what will you do after graduation?"
As an adjunct community college assistant professor, and a PhD student, I see how much anxiety these questions produce in students. As an undergraduate nearly two decades ago, I too, feared selecting the wrong major. I was envious of the nursing, engineering, and accounting majors because they seemed to have a more clearly defined career path. As a liberal arts major, I would need to chart my own path, and that was more frightening than taking chemistry.
Advice like "follow your passion" was unhelpful to me and rather annoying. My interests were vast, and it was hard to see how my passions fit into a specific major or would lead me to a job or pay my bills. And, would I still be passionate about my interests if my livelihood depended on them for 40+ hours each week?
As a result, I avoid giving the "passion" advice. Rather, I advise most college students to just earn a degree. College makes a difference for many; however, a specific undergraduate degree is often unnecessary, and the pressure to pick the "right" major creates a lot of added stress.
Declaring (and keeping) a major earlier can help a student remain mentally strong and academically focused, reduce tuition expenses, and meet a target graduation date. On average, students change their majors three times. This comes with a delay and a price. Today, only 60% of students have completed their bachelor's degree at the same institution where they started six-years earlier. At an annual cost of $17,237 at a public university, or $44,551 at a private school, for tuition, fees, room, and board in 2016-17, according to the National Center for Education Statistics, this adds up.
The reality is that as our children age, they also grow personally, expand their interests, and want to try new jobs. Your child choosing a major does not mean a lifetime commitment, or even any commitment, to that field. The average late baby boomer (born between 1957-1964) held an average of 12.3 jobs between the ages of 18 and 52, according to a 2019 Bureau of Labor and Statistics report.
A 2013 survey from CareerBuilder found that the first jobs of 47% of college graduates were not related to their college major and 32% of college graduates had never worked in a field related to their major. Additionally, the 2010 Census found that only 27.3% of college undergraduates were working in their degree field.
Some may look at that and ask, why even go to college? College is one method to gain independence, improve communication and soft skills, and think outside the box. Employers repeatedly state that they seek employees with broad learning and cross-cutting skills. There is great value in the applications learned from a liberal arts degree.
However, just like you're not going to make your child happy all the time, neither is a specific program. If your child can manage the requirements of their selected program, is on a budget, planning to earn a graduate degree, and/or not drastically changing fields (i.e. history to biology), it might be healthiest to encourage them to pick a major they find interesting and not overthink it.
The job market is ever-changing and there are plenty of opportunities for liberal arts degrees. Furthermore, there is not one right or wrong path to a successful career. Declaring a major hopefully leads to a timely degree. A degree leads to a job. Multiple jobs comprise a career. The in-person relationships we build throughout our career affect our health and happiness.
If it provides some peace of mind this spring break, the major is usually minor in the big picture. Just encourage your child to finish a degree.
This article was originally published on