Impress The Heck Out Of Your Kids With This No-Bake Unicorn Cheesecake
by Valerie Williams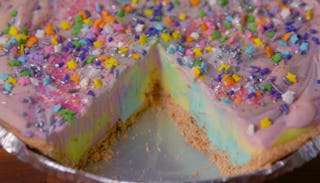 Image via YouTube
This unicorn cheesecake is gorgeous and also, easy to make
First, there was unicorn hot cocoa. Then came unicorn bark. And now, to kick off 2017 with quite possibly the most beautiful dessert we've ever seen: unicorn cheesecake.
And if it tastes half as good as it looks, we need to make it an everyday diet staple.
The heroes at Delish decided to brighten our lives by sharing the recipe for this most magical of desserts and also, a glorious video showing all its colors. Bonus? It looks super easy to make. You don't even have to bake it!
Anyone else drooling? It's so colorful and rainbow-like and looks as though it's something an actual Disney princess would eat for breakfast, but like we said, it's beauty doesn't let on how simple it is to put together. Here are the ingredients
2 8 oz blocks cream cheese, softened
1 c. sugar
2 c. heavy cream
pink, yellow, green, blue, and purple food coloring
1 prepared graham cracker crust
Sprinkles, for decorating
Whipped cream, for serving
First, beat the cream cheese and sugar until smooth and fluffy, about three minutes. Then, add the heavy cream and beat until stiff peaks are formed, about another three minutes.
Divide the resulting mixture into five bowls (or however many you want to use) and put a few drops of food coloring into each.
Next, add spoonfuls of the differently colored mixtures to the graham cracker crust, alternating until it's all in there. Get creative, it's unicorn cheesecake, for frick's sake.
Then, swirl the colors together using a knife before smothering the whole thing in sprinkles.
All that's left after that is leaving it in the fridge to set, which takes about 6-8 hours. When firm, spray on a little whipped cream and enjoy! Oh, and totally amaze your kids. Because look at this gorgeousness.
Happy not-baking!
This article was originally published on