Unicorn Cocoa Exists Because Sometimes We CAN Have Nice Things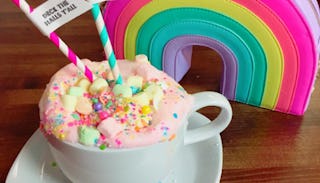 Image via Instagram
This is the most beautiful hot cocoa you'll ever see
Ready to be a total hero to your kids this winter? Thankfully, it won't take more than sprinkles, marshmallows and cocoa for them to think you're the most magical mom ever.
Because unicorn cocoa is a thing, and we can't wait to try it.
The geniuses at California cafe and sweet shop Creme and Sugar came up with the most whimsical hot cocoa recipe, and the good news is, it's beyond easy to make.
All the heart-eye emojis, right? It's just so pretty. And if us moms are flipping out over this amazing cuteness, you can only imagine the effect it will have on kids. And not only is it fast and easy to make, it won't break your budget either.
Creme and Sugar dyes their white hot cocoa pink and uses several kinds of "unicorn" sprinkles and embellishments, so as you can see from their photos, you're only limited by your creativity and what your grocery store offers. You can top off with pink-tinted whipped cream (add a few drops of food coloring to heavy whipping cream, mix in powdered sugar, and use your mixer until the whipped cream is stiff peaks) and then sprinkle on gorgeous candies and mini marshmallows of your choosing.
Behold.
Personally, I won't even bother dyeing the actual hot cocoa because my kids will be so dazzled by the sprinkles and whipped cream they won't notice if the liquid is colorful, so that makes my version even lower maintenance. Which is something we could all use this busy time of year.
We can't stop staring. It's just so beautiful. Especially when paired with this stunning unicorn cake.
Oh, and in case you needed your breath taken away, peep this immaculate unicorn bark.
That's it. We now want all of our food and drink unicorn-ified. And if science could get on making actual unicorns a thing, that would be great.
Enjoy!
H/T Refinery29
This article was originally published on