Your Kids Will Flip Over This No-Churn Unicorn Ice Cream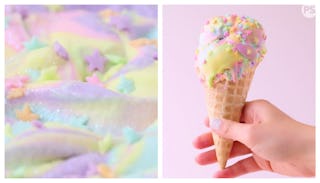 We've got the recipe for the latest unicorn treat
Unicorn hair, unicorn bark, unicorn cocoa – we're all unicorn all the time, which is why we had to show you this amazing no-churn ice cream that is beyond magical.
With lots of fun colors, sprinkles, and sparkles this unicorn ice cream is guaranteed to delight even the crankiest kids (or moms). PopSugar partnered with Nestlé Pure Life for the recipe video that has quickly gone viral with almost 100,000 shares.
Here are the ingredients you'll need: 2 cups heavy cream, 1 teaspoon of vanilla extract, 1 (14 oz) can of condensed milk, a pinch of salt, neon pink, purple, blue, yellow, and green food coloring, rainbow sprinkles, and disco dust which is a fancy title of edible glitter.
Now, let's get started. Whip the heavy cream for a few minutes in a large bowl until you see stiff peaks.
Then stir the condensed milk, a teaspoon of vanilla, and a pinch of salt together in a smaller bowl. Now mix the two together.
Then separate the mixture into five bowls.
Drop in two drops of one food coloring per bowl. Stir each bowl up.
Layer spoonfuls of the mixture into a loaf pan. One you've gotten all the mixture into the pan, take a knife and run it through the mixture in a swirl pattern. Add sprinkles to the top and your edible glitter.
Then freeze your ice cream for about eight hours.
To make the colorful cones featured in the video melt white chocolate then dip the cones into it, then add sprinkles before letting them dry on a wire rack.
Now you're ready to scoop, serve, and indulge.
This article was originally published on