These Unicorn Light Up Slippers Are The Magical Loungewear Everyone Needs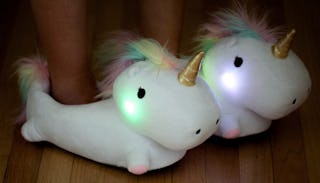 Image via Smoko
Unicorn Light Up Slippers will bring that extra touch of whimsy to your usual pajama game.
Were you drinking coffee this morning gazing downward and feeling like something was missing in your life? It's probably because your tootsies weren't being warmed by the most magical pair of slippers to ever slipper. That's right, moms. Unicorn Light Up Slippers now exist. And they're the best thing to happen to your pajama collection since that perfectly worn, ridiculously soft t-shirt from your company's team-building softball game in 2007.
Online retailer Smoko is offering these insanely cute slippers for the low, low price of $39.99, and let's be real for a second: can you really put a price on magic? And what's more magical than moms? We deserve it. After one look at these perfectly adorable walking night lights, you're probably thinking, "Shut up and take my money!" They're ridiculously cute and I will likely order them today. As should you.
Besides being totally fun, these slippers will literally light the way for every sleep-sucking 2:00 am feeding and every whiny, 4:00 am request for a glass of water. For every 6:00 am toddler wake-up and 8:00 am sprint around the house to find your kid's fucking lost library books, these slippers will remind you to not take things so seriously. The illumination they provide is simply a super handy bonus.
And while we're on the subject of a bonus, parents don't usually get one. Sure, some of us treat ourselves from time to time, but overall, the kids are the financial priority and we don't often buy something just because it's fun. Practical is the name of the game when you're a stay-at-home parent trying to save money. Or, a working family spending the equivalent of your mortgage on childcare.
When it comes down to it, these unicorn slippers are a metaphor for treating yourself. If your version of unicorn slippers is a few new eye-shadows from Sephora and it won't break the bank, go for it. If it's a burrito at Chipotle once a week instead of packing a boring sandwich from home, do it up. All too often, the little budgetary sacrifices families have to make mean parents don't get to have fun.
And everyone deserves to have fun once in a while.
This article was originally published on