Gender-Neutral Baby Names You Can Choose Before The Big Reveal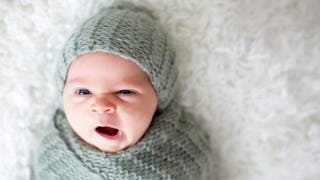 Tatyana Tomsickova Photography/Getty
Fair or not, people tend to make assumptions about someone's gender based on name alone. But if your name is, say, Alex or Riley, it's harder for people to assume.
And that, in a nutshell, is what's so appealing about gender neutral baby names.
They're all the rage these days, and for good reason. Unisex names don't seem to carry the weight of the stereotypes associated with the ones that are clearly masculine or feminine. By calling your baby something that suits both, it feels like you're freeing them of at least a few of the expectations that come with heavily-gendered names.
This gender neutral trend is helped along by celebrities who have chosen to make traditionally-masculine names feminine: like Ashton Kutcher and Mila Kunis' daughter Wyatt, Kristen Bell and Dax Shepard's daughter Lincoln, Ryan Reynolds and Blake Lively's daughter James (and actually, Blake herself if you wanna get technical), and Jerry O'Connell and Rebecca Romijn's daughter Charlie.
This isn't just a recent fad, though. Some of the names we think of now as strictly for girls were once predominantly used for boys; today's parents probably can't imagine naming a son Margaret, but in 1907 it was ranked #392 out of the top 1,000 most popular boys' names.
Oddly enough, the trend doesn't work both ways; the incidents of girl names becoming boy names are virtually zero. It says a lot about our society that the traits associated with feminine names are a huge no-no for boys, while the masculine traits associated with male names are seen as assets for girls. In fact, studies have found that boys with feminine names act out more often in school, and girls with gender neutral names are more likely to succeed in male-dominated fields, such as law.
So if you want to give your baby the advantage of androgyny — at least where his or her (or their!) name is concerned — here are 30 of our favorites right now (and you can check out the rest of the list here).
Lachlan. Originally a Scottish nickname for someone from Norway — or "Lochlann," the Land of Lakes (so it can also be spelled Lochlan).
Jude. Of Hebrew origin and meaning "praise," this name is neither Judah or Judy, but an un-gendered middle ground. And the Beatles association doesn't hurt either. Hey, Jude!
Parker. An English occupational surname that means "keeper of the park," this is an upscale-sounding name for boys as well as girls — just like actress Parker Posey.
Carbry. This name, of Irish origin and meaning "charioteer," is one of those hidden gems that isn't on most people's radars yet. So not only is it fitting for either gender, it's still unique and fresh-sounding.
Indy. Funny how one letter can change things. Cindy and Mindy? Girls' names. But the more masculine associations with Indiana Jones and the Indy 500 race lend Indy a definite unisex feel.
Gio. Again, here's the case of one letter making a huge difference; Gia would typically be a girls' name, but the O could make it short for Giovanni or Giorgio, upping its unisex appeal. Adam Levine and Behati Prinsloo named their daughter Gio Grace in 2018 (and Gio's big sister also has an awesome unisex baby name: Dusty).
https://www.instagram.com/p/BfeVsn8FIAT/?utm_source=ig_web_copy_link
River. Whether your little one is calm and steady or fast-moving and turbulent (or both at various times, because kids), this non-gendered name is a perfect choice. Singer Kelly Clarkson has a daughter named River, while '80s girls had a crush on actor River Phoenix.
Merit. A virtuous name that literally means "the quality of being particularly good or worthy," and we all want our kids — male or female — to live up to that meaning. "Duck Dynasty" star Jep Robertson has a daughter with a slightly different spelling: Merritt.
Lennon. From a Gaelic surname meaning "lover," this makes most of us think of musician/songwriter John Lennon. But it's great for either gender; actor Lance Gross named his son Lennon Lorin, while actress Tammin Sursok's daughter was christened Lennon Bleu. Want a similar name that's less Beatle-y? Try Lennox.
Remy. Whether it's a nickname for Jeremy or Remington, or a standalone name, its strong R at the front and softer Y ending make this one a really balanced name for both boys and girls.
Rowan. Derived from the Gaelic name Ruadhán, which referred to a red-haired person — or a direct botanical reference to the rowan tree. It was originally used more for boys, but just as you don't have to have red hair to be named Rowan, you don't have to be a boy, either.
Valor. A word that means "great courage in the face of danger" — and since courage doesn't have a gender, neither does this unique unisex name.
Banks. Actress Hilary Duff named her daughter Banks Violet Bair in 2018, and since this name has no distinctly feminine or masculine-sounding components, it would be equally awesome for a son.
Avery. A classic that's still going strong today, this one time "boys' name" began trending for girls in the '90s and now is firmly rooted in the unisex camp. It has Germanic roots, and means "elf-ruler."
Blue. Whether you spell it this way, or the French-ier version Bleu, it's an on-trend color name. Maybe Beyonce and Jay-Z really skyrocketed its popularity when they named their daughter Blue Ivy, but iconic singer Cher named her son Elijah Blue all the way back in '76.
Justice. Meaning "just, fair, and righteous," which are great traits for anybody to have. Part superhero, part patriotic, all a strong choice for your little one.
Evren. A Turkish name said to mean "universe," it's a fresh alternative to names like Everett or Everleigh.
Greer. From the Scottish surname Gregor, meaning "watchful," this is one that's actually associated with more women than men, but there's nothing distinctly feminine about it – it doesn't share the same soft sounds as traditionally "girly" names — and it's still rare enough to be a perfectly fitting boys' name as well.
Oakley. From sunglasses to sharpshooters, this surname of English origin evokes images of several different types, and has a nice outdoorsy quality without feeling too rugged.
Will. Yes, it's most typically seen as a diminutive of William — but it was also the nickname of female protagonist Willowdean Dickson in the Netflix hit Dumplin', which makes it a viable nickname for female names like Willa or Willow, too.
True. Khloe Kardashian and Tristan Thompson brought this name to the forefront of pop culture's collective consciousness when they gave it to their daughter in 2018. But its lack of distinctly masculine or feminine elements, and deep meaning as a word, make it applicable to either boys or girls.
Dylan. A Welsh name meaning "born from the ocean," it was popularized as a boys' name by bad boy Dylan McKay from "90210" — but has steadily crept into regular usage for girls, too. Just ask designer Ralph Lauren's daughter, entrepreneur Dylan Lauren, and the daughter of actors Sean Penn and Robin Wright, Dylan Frances Penn.
Desi. 1950s bandleader (and husband of Lucille Ball) Desi Arnaz made most people think of this as a male name, but it's also a diminutive of female names like Desiree, so it possesses a non-gender-specific quality.
Keagan. This Irish name means "son of Egan" — but it doesn't have to mean "son of" anything, thanks to the parents who have given this name to their daughters. Teagan is a unisex name, so why not Keagan, especially since K-names are so hot right now.
Ari. This name was once considered strictly male, a diminutive of the Hebrew name Ariel, meaning "lion of God." But thanks to the fact that it's a also great nickname for more feminine names like Ariana and Ariyah, it suits any gender.
Story. Everybody loves a good Story — just ask baseball player Derek Jeter and his wife Hannah, who welcomed Story Grey in January of this year, or actor Aaron Paul and his wife Lauren, who named their daughter Story Annabelle in 2018.
https://www.instagram.com/p/Be9l4qeHHH_/?utm_source=ig_web_copy_link
Ellison. Obviously, any name ending in "son" originated as a boys' name. But for proof of why this doesn't matter, look at the name Madison, which is now far more popular for girls. Meaning "kind," Ellison is one of those names that works both ways — as does its diminutive, Ellis.
Navy. Color names are so on-trend, and many of them are unisex: Indigo, Gray, Sage. Navy is one of the newer color-inspired names out there, most recently in the spotlight thanks to country singer Jason Aldean and wife Brittany Kerr, who welcomed daughter Navy Rome in February 2019.
Ash. This can be seen as a diminutive of Ashley (which was, coincidentally, once considered a boys' name) — or of Ashton, Asher, Ashanti, or any other name beginning with these three letters, which is why it's equally suitable for either gender.
Kiernan. An Irish surname meaning "son of Tiernan," though the "son of" part can be changed to "daughter of" — just ask actress Kiernan Shipka, whose middle name happens to be another unisex classic: Brennan.
Harper. An English name referring to a harp player, this unisex name is popular amongst To Kill a Mockingbird fans.
Taylor. Another occupational name referring to a tailor, this is a perfectly cute unisex name. Just ask Taylor Swift and Taylor Lautner, who were once a couple known as "Taylor squared."
Kendall. This unisex name was originally a surname derived from the English city Kendale. In recent years, it's become popular as a girl's name thanks to reality shows Keeping Up With the Kardashians and Dance Moms.
Marlowe. This is another unisex name that started out as a surname, referring to a bog or marshland.
Camdyn. This unisex name is a variant of the English place name, Camden. It means 'enclosed valley.'
Kenya. This unisex name comes after the country itself. It means "spotted mountain" in the Bantu language.
Jessie. This unisex name means different things in its masculine and feminine forms, though both versions come from Hebrew. Jessie is derived from the feminine Jescha, meaning "to behold" and the masculine Jesse, meaning "gift."
With these gender neutral options, there's no need to wait for that big gender reveal (or even have a gender reveal at all!) to choose your baby's name. Boy or girl, it doesn't matter: you'll have the name covered before you even decide on what color to paint the nursery.
For more names and inspirational lists, check out Scary Mommy's comprehensive baby name database!
This article was originally published on