Teen Who Walks 10 Miles To Work Every Day Gets The Perfect Gift From His Coworkers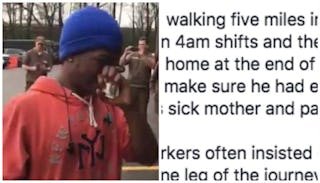 Image via Facebook
Coworkers stepped in to make life a little easier for this hard-working teen
Derrick Taylor is 19 years old and shouldering a burden that should belong to someone twice his age. With an ailing mom who's unable to work and a few siblings to care for, he works full-time unloading boxes at UPS for $11.90 per hour to support his family.
The teen has been doing this for the last year and a half, but that's not even the most remarkable and heartbreaking part of the story. Up until now, he didn't have a car to use, so he's been walking a full five miles each way the entire 18 months he's had the job. His shift starts at 4:00 am, so he was waking hours before that in order to get there on time.
Luckily, his coworkers have his back and surprised him in the best way possible.
Journalist Jim Heath shared Taylor's story on his Facebook page, telling of the teen's difficulty getting to work and how his coworkers at the UPS center in Oxford, Alabama came together to solve that problem. They collected $1,100 to buy him a used Jeep Cherokee and presented it to him.
JD Ward, Derrick's safety supervisor, was the one to give him the great news and hand him the keys. He started off joking and bantering about Taylor, who's clearly admired by his coworkers. "This is a hard-working young man," Ward said. "He makes me emotional. This young man wants to work so bad, he walks to work from way out of town."
Ward tells him, "The group here, we've got some good news for you. Everybody came together and you don't have to walk no more. You've got your own ride." Taylor became visibly emotional, breaking down in tears. In the video, he says, "If I could, I would go around and thank everybody one by one. This is really going to change a lot for me, so thank you again." Aside from the car, they also gave him $300 toward liability insurance so he would be able to drive safely.
Heath explains that Taylor's coworkers offered him rides to work one way but was "too proud" to ask for a ride on the other leg of his commute. He had also turned down offers of help from his older siblings, preferring to do it all on his own.
Not anymore.
As for the future, Taylor has plans to advance from his job loading and unloading packages. He tells The Daily Mail, "I wanna move up at UPS and become a driver and with the money I make as a driver I want to invest into something profitable. I really wanna go to school and get a degree in business and music engineering."
With his incredible work ethic, we've no doubt he'll make it happen. But first, Taylor's going to do what all teen boys want to do with their very own car — take his girlfriend for a ride.
This article was originally published on