U.S. Health Officials Warn Of A Second Wave Of Flu Hitting Kids The Hardest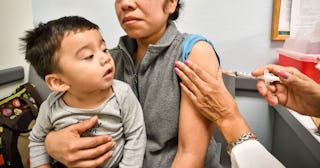 MediaNews Group/Orange County Register/Getty
There have been 14,000 flu-related deaths this season
As coronavirus dominates headlines, a second wave of flu is hitting the U.S., making this one of the deadliest flu seasons for children in over a decade. As of Friday, there have been 92 flu-related deaths, according to the CDC.
The number of child deaths (14 reported just last week) and the number of children nationwide hospitalized for the flu are the highest seen at this point in flu season since 2009-10. The CDC warns this is expected to continue for weeks as both strains of the flu, Influenza A and B, are hitting hard.
In total, the CDC estimates that so far this season there have been at least 26 million flu illnesses, 250,000 hospitalizations, and 14,000 deaths from flu. The viruses behind both waves can be hard on children and young adults. Luckily, the flu hasn't been as prominent in the elderly population this year, which is good news, since flu deaths and hospitalizations usually hit this age group the hardest.
"Reports of influenza-like illness have increased in the last few weeks" and are "high" among children, Dr. Nancy Messonnier, director of the National Center for Immunization and Respiratory Diseases, said during a Friday news briefing.
If you've had the flu shot, it may be even more effective for fighting this second wave. "The influenza vaccine protects against various strains, three or four, depending on which vaccine you receive," said Dr. William Schaffner, medical director for the National Foundation for Infectious Diseases, which weren't as close of a match. Now, that flu activity is changing, "an increase in A/H1N1," Schaffner said. "It looks like we're having a second wave," he added. "The vaccine is exactly on target against this strain."
"The flu season began early this year and took off aggressively," added Schaffner. "It began prominently in the southeastern states but quickly spread. So far, there is no sign that the momentum of the annual epidemic is slowing." In fact, some states like Minnesota are seeing record numbers of flu patients, according to MPR. There have been nearly 700 outbreaks of flu in Minnesota schools this winter and 48 deaths.
"Schools were having a really hard time this year. We're having calls from school saying that they have sometimes up to a quarter or even a third of their students out sick," said Karen Martin, a state epidemiologist.
Schaffner also said with the concern and spread of coronavirus now in the U.S., many coming in are confused by the symptoms of each and those who may not have come in with flu-related symptoms in the past are doing so more now because of the concern over coronavirus, which may help in catching the flu early.