World Cup Soccer's Jessica McDonald Being Reunited With Her Son Is Everything
by Christina Marfice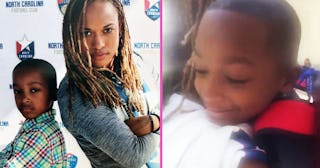 Jessica McDonald/Instagram/Twitter
Jessica McDonald is the only mom on the U.S. Women's National Team, and this video shows how strong she is
Being a mom comes with all kinds of tough choices. Being a mom whose job requires her to travel to other parts of the world to kick ass and take names? That's the tough choice made daily by Jessica McDonald, a forward on the U.S. Women's National Team — and the only mom on the team.
In case you've somehow missed all the headlines, the Women's National Team is really, really good. They've won three of their last seven World Cup titles, and they're currently the favorites to win the 2019 Cup.
For McDonald, that means being away from her family — including her 7-year-old son, Jeremiah — for nearly a month now, since the tournament began on May 30. Until now. Jeremiah just arrived in France to cheer his mom and her teammates on in Friday's match, and someone captured video of their sweet reunion that is guaranteed to bring tears to your eyes. Just watch.
McDonald posted the video to her own Twitter account, with the caption, "Welcome to France, son!" In it, you see the exact moment Jeremiah spots his mama for the first time. He gets up, screaming, runs to her, and jumps into her arms. And excuse me for a minute, there's, um, something in my eye. In both my eyes.
People online have been commenting on how absolutely heartwarming the video is.
There are 552 women playing in this year's World Cup, and only a small handful of them are moms. It's hard enough balancing motherhood and any career, especially with the stigma that working moms still have to combat. But being both a mom and an elite athlete? While we're seeing more women go down that path (hello, Serena Williams), this is still pretty uncharted territory. Jessica McDonald deserves all the recognition for being the absolutely badass mom that she is.
Because this shit is hard. We've been hearing it for years from other moms, including celebs who are using their platforms to normalize the conversation about how being a working mom — especially one who travels — is OK. Just last month, Hilary Duff shared that she was stopping breastfeeding her six-month-old daughter because trying to find the time and space to pump at work was making her miserable.
And Kelly Clarkson has dropped some major truth bombs about being a working mom on the road. "I'm not going to be able to be there for everything, and that's OK because I'm showing my daughter and my son and our kids that you can do both and achieve great things," she said during a TODAY show appearance, and working moms everywhere stood up and cheered.
I think there's only one way for Jessica McDonald to proceed here, and that's to win the damn World Cup. For Jeremiah, for working moms everywhere, for all women. #OneNationOneTeam
Hear what our real-life Scary Mommies, Keri and Ashley, have to say about this when they give their (always real) thoughts in this episode of our Scary Mommy Speaks podcast.
This article was originally published on