Heading To Court: USWNT Will Stand For Nothing Less Than Equal Pay
by Christina Marfice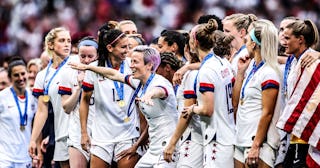 Alex Grimm/Getty
The USWNT isn't giving up after equal pay mediation failed in just one day
Well, it only took one day for the USWNT and USSF to give up and step away from the table, where they were in mediation over the women's team's lawsuit seeking equal pay.
The women filed a lawsuit in March, and agreed to head to mediation after their historic World Cup win. What they're fighting for is simple: They want to be paid as much as the U.S. Men's National Team, which, we might add, is far less decorated and less successful. The men have never won a World Cup, and this year marked the USWNT's fourth championship victory.
Team spokesperson Molly Levinson released a statement on behalf of the USWNT, saying, "We entered this week's mediation with representatives of USSF full of hope. Today we must conclude these meetings sorely disappointed in the Federation's determination to perpetuate fundamentally discriminatory workplace conditions and behavior."
The statement continued, "It is clear that USSF, including its Board of Directors and President Carlos Cordeiro, fully intend to continue to compensate women players less than men. They will not succeed. We want all of our fans, sponsors, peers around the world, and women everywhere to know we are undaunted and will eagerly look forward to a jury trial."
In a statement of their own, USSF claimed talks broke down so quickly because "plaintiffs' counsel took an aggressive and ultimately unproductive approach that follows months of presenting misleading information to the public in an effort to perpetuate confusion."
In an interview with CBS This Morning, star player and team co-captain Megan Rapinoe laughed at the idea that their side was too "aggressive," and said that was untrue.
"I think at any point when they're willing and ready to have a serious talk about equal pay we're willing to listen to them," she added.
Team member Christen Press was also part of the interview, and she summed up what exactly it is the USWNT is fighting for.
"It's very simple for us, and it's not just about us, and it's not just about this moment," she explained. "We're trying to do this on behalf of women everywhere to be treated respectfully and paid lawfully, and the issue is just equality, so that when we play a game, then we would be compensated the exact same as if a man were to play that game."
But this is about more than just this one team, and the USWNT recognizes that.
"I think we have an amazing opportunity to change something that is systematically affecting women everywhere," Press said. "It could be such a positive thing for us to come together and change outdated and, honestly, wrong opinions, and do it in an effort of collaboration and progress."
The USWNT has women (and fans of all other genders) all over the world on their side. Here's hoping whoever decides their case is on the right side of history.