The USWNT Is Coming Home And The Photos Will Make You Feel Things
by Christina Marfice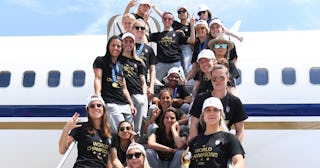 U.S. Soccer WNT/Twitter
The USWNT is an inspiration, and these photos have us reaching for the tissues
The USWNT is headed home after a long month in France kicking ass and taking names. The ladies defeated the Netherlands team on Sunday 2-0 to win their second World Cup in a row, and record-breaking fourth overall. To say these women are an inspiration would be putting it lightly, and we're so excited to welcome our champions back home.
In a series of photos posted to Twitter, the team bade farewell to France and looked forward to getting home to celebrate their history-making win with their nation.
Star player and team co-captain Alex Morgan, who scored a beautiful goal to help secure the U.S.'s 2-1 victory over England in the semi-finals on her 30th birthday, helped make sure the team's newest member made it home safe and sound, too.
And the whole team posed before boarding their flight for a photo that I intend to use as my Christmas card every year from now on, because these women are the greatest family we have in this country.
https://twitter.com/jetpack/status/1148203894801129473
Truly, they are all a national treasure.
This year's tournament was long and emotional, and the USWNT played fiercely in every match. No one deserved this win more than they did, especially when you consider all the controversy they've faced throughout the World Cup.
First, there's the fact that the women's team has an active lawsuit against U.S. Soccer, because even though they've won the last two World Cups and four overall, and the men's team hasn't won a single cup since 1994, the women are still paid less. After the final ended and the American women took the field in victory, chants of "equal pay" filled the stadium. Mediation begins soon, now that the tournament is over.
And then there's the sexism the USWNT faced when they were criticized for celebration their record-breaking victory over Thailand in their first match for the Cup.
And there's the abuse President Donald Trump has spewed at team co-captain Megan Rapinoe on Twitter. Rapinoe said she wouldn't go to the White House if invited, and Trump took to the internet to put her on blast for, you know, exercising her right to free speech. He then basically told her to shut up and focus on winning, which she did, so I guess she can talk again now, President Trump?
Playing in the freaking World Cup is hard and stressful enough without dealing with all of that. These ladies are every bit a champion team, and we'll be celebrating this win even harder when they're home to celebrate it with us.
This article was originally published on