From The Confessional: Kids' COVID Vaccines Are Here — Most Parents Are Stoked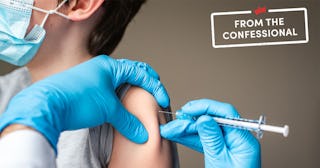 Cavan Images/Getty
It's hard to believe that in a few short weeks, my entire family will be vaccinated against COVID-19. The past year has been grueling—emotionally and physically. Working full-time from home, managing their virtual school, fearing for their health and safety, for my health and safety, for my husband's, our parents'… It's been an exhausting couple years.
But, since our youngest is eight years old, the day we've been waiting for is here. I remember the relief last April when my husband, myself, and our oldest were eligible. But we still had two very vulnerable kids at home, and we didn't know when they'd be able to get their shot.
Now, they can. And by Christmas, our family of five who stayed home and ordered grocery store delivery and didn't even enter a restaurant for a full year will be protected—all of us.
The gratitude and relief I feel… it's indescribable. And I know other parents feel it too. But this news that kids ages 5 and up can get their COVID vaccine isn't all rainbows and butterflies either. There are parents who are co-parenting with brainwashed anti-vax morons claiming to know more than actual medical experts. Many of us have neighbors, family members, and friends still spewing bizarre QAnon rants that heartbreakingly trickle down to their children. And although we're so excited for our own kids to get this free, valuable, life-saving medicine, we can't help but feel sadness for kids living in those Fox News-Tucker-Carlson infested households. (Even though literally everyone on Fox News IS ACTUALLY VACCINATED, but whatevs.)
So yeah, today, we say "Yay science!" even though there still might be a cloud of negativity hanging over us. But knowing our kids are protected is the ray of sunshine that can break through that dark cloud.
We can't share this publicly for fear of mistreatment by certain antivax family members, but our big kid got his first dose of the covid vaccine yesterday and we are thrilled. Come on science, help us with our little one so we can get back to normal!
Confessional #25859921
My 6yo got their vax yesterday. They were the first kid to get it & were treated like a princess rock star. It was such a great experience and I am so grateful for the Dept of Health!
Confessional #25859513
My daughter is getting her vax in less than 2 weeks.. so happy!
Confessional #25859192
CEEEEEEEELEBRATE GOOD TIMES, COME ON! Our kids are vaxxed and it's time to party. Screw the naysayers. Let's dance.
My husband screamed at me in front of our kids that I was trying to murdered them because I want them to get the Covid vaccine. He barely has a h.s. diploma but he knows better than all the drs and scientists. He's not the man I married. I hate him.
Confessional #25859426
DH doesn't wasnt DC vaxed because "it isn't a big deal in kids. Drs just want to do it to protect eldery/others". UMM YEAH why is that so horrible? Who the F is this person I married? Gonna do it in secret and bribe them not to tell.
Confessional #25859088
H says he's not convinced the vax will be safe for our kids (he & I are both fully vaxxed). He doesn't even have h.s. diploma but knows better than the experts. I have 2 Sc degrees. He doesn't even know enough to understand how a mRNA vax even works. FML
Confessional #25859747
Going to get DC vaxed against H wishes when able. Wondering how I can convince them to keep it a secret. Puppy? Disney? Or maybe I'll just do inevitable and divorce H.
Confessional #25852056
If you're co-parenting with an anti-vaxxer… ugh. I am sorry. It's beyond frustrating when actual medical experts who have devoted their careers to "doing the research" tell us one thing, but Joe down the street "did his own research" and your spouse believes him instead.
Our news station interviewed 'parents' who don't want to get their 5-11 yr old dc the COVID vax. I'm not sure if the reporters sought out the most paranoid, ignorant people they could find, or if that's just par for the course with this lot.
Confessional #25859248
I am perfectly fine with the vaccine relationship cull. If you don't value my kids being alive, I don't value you.
Confessional #25856062
Anti vaxxers should be held liable and prosecuted if their children die from illnesses. My SIL and BIL have 7 kids they've manipulated into believing QAnon theories. They are too young to comprehend the seriousness of diseases! It should be their choice!
Confessional #25852457
Some people though… yikes. We can only hope—for their kids' sake—that COVID doesn't tear through their household like it has so many others.
Demand for kid vax is so low here that I can schedule pretty much whenever I want. It means my kids can get vaxxed this weekend, but it makes me sad for all those kids whose parents are brainwashed.
Confessional #25859323
got teenage sons 2nd covid shot today. now we are all fully vaxxed! feel so relieved. also feel angry when i see these assholes promoting anti vax stuff. here in texas we see alot of it.
Confessional #25854084
I am releived that my kids can get the vaccine. I am sad that it means things will go back to how crappy they were before the world shut down. My life is better now.
Confessional #25859676
The truth is, this latest round of COVID vaccines—for ages 5-11—has led to a mixed bag of emotions. On one hand, yay! Thank you, science! But on the other, all the conspiracy theorists out there seem to be getting louder, and it's fucking exhausting trying to drown them out. And, this also means we are closer to returning to normal life, which for many of us, doesn't actually sound all that appealing now that we've been able to avoid people we don't like for nearly two years.
In the meantime, if you do happen to get your kid vaxxed or at least make that appointment, soak it in, Mom. Soak in the relief and the gratitude and don't let QAnon Joe rain on that joy.
Vaccines save lives. And today, millions of kids are now eligible for this life-saving medicine. That is always something to celebrate.