Valedictorian's Speech Cut Off As She Speaks About Sexual Assault On Campus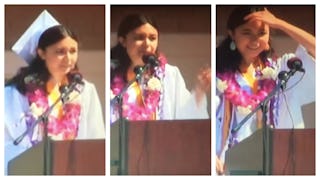 Image via YouTube
The valedictorian brought up her school's mishandling of sexual assault during her speech
Today is disturbing news, a high school valedictorian was silenced by her school when she tried to speak out about sexual assault. As in, her school literally turned her mic off while she was in the middle of her speech. Backlash, thankfully, has been very, very swift.
Lulabel Seitz is 17, has a 4.0 GPA, and is headed to Stanford this fall. She's also the first person in her family to graduate from high school. About four minutes into her well-earned valedictorian speech at Petaluma High School in California, she began to talk about the school's mishandling of her sexual assault allegations. Then, her mic was purposefully cut off.
The graduate told KPIX that she was sexually assaulted on campus grounds and schools officials failed to take any action. She noted that her high school has a track record for censoring students. "It wasn't easy thing to do to get up there and say what I said – or tried to say," Seitz added.
It's completely heartbreaking to watch Seitz be silenced in real time and see her classmates cries of "let her speak" go ignored. "I felt like I was worthless," Seitz later told CNN.
Thankfully, the valedictorian decided to take to YouTube to share the full, uncensored version of her speech — and she had some choice words for school officials.
"The Petaluma High School administration infringed on my freedom of speech, and prevented a whole graduating class from having their message delivered," Seitz said. "For weeks, they have threatened me against 'speaking against them' in my speech. Sometimes we know what's right and have to do it despite the threats."
The Petaluma City School District released a pretty vague statement in response, with claimed that they take allegations seriously.
"If an alleged event happens off campus or on, we work to support our students with appropriate discipline, extensive counseling, and whatever measures we can take to protect our students while they are in our learning environment," officials said.
Meanwhile, there has been a huge wave of backlash over the censoring of Seitz's speech — because it's not ok for a school to censor the speech of its students. People slammed the school on social media and applauded Seitz for her bravery and honesty.
It's worth noting that this wasn't just about Seitz's battle. She was trying to give a voice to many of her other classmates, who haven't had their experiences heard. "This is about the bigger problem, not only about what I experienced," she told CNN. "It was for everyone."