Valentine's Challenge Has Women Asking Out Their Crushes -- And Sharing The Replies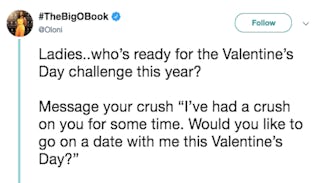 Image via Twitter/Oloni
Why not take the Valentine's Day Challenge and ask your crush on a date tomorrow?
Sex and relationship writer and podcaster Oloni has started her annual Valentine's Day Challenge – and the results will have you smiling (and wondering if you could ever go through with it). The challenge is simple: you tell your crush that you like them over text, and then you ask them out on Valentine's Day. Sound terrifying? Let's take a look at the range of responses these brave women are getting already.
First thing's first: here are the official rules of the challenge:
"Message your crush 'I've had a crush on you for some time," Oloni wrote. "Would you like to go on a date with me this Valentine's Day?'" If he answers, women are encouraged to tweet a screen shot of how it went.
The responses poured in and while plenty of them were totally adorable and heartwarming, some made us sympathy-cringe for the sender and wish we could help them take it back. They truly ran the full spectrum.
Let's start off with a super simple and encouraging one. Doesn't this make your cold, dark heart a little bit happy?
https://twitter.com/jetpack/status/1095433549405130753
And this one too — what a gentleman.
https://twitter.com/jetpack/status/1095751346203037696
Here's another super good one, although we feel bad for Stephan, who was dragged into this somehow.
This is the best and cutest "no" response that you could possibly get. This woman asked out her crush and he's busy – on a date with his mom. But don't worry: he's free on Tuesday, Wednesday, and Thursday of next week. This one's a keeper.
https://twitter.com/jetpack/status/1095751188505608192
But of course there were some pretty straightforward, painful rejections, too. Because you can't bat 100 when you're asking crushes on dates out of nowhere on a huge holiday. There's bound to be some misses.
And this one is probably worse than rejection? If you read down, we find out that her name is not at all Sandra. Awkward.
Then this next one isn't exactly ideal either – or maybe it is? We guess this could be good, too, if you're just wondering what sex with your crush is like. And maybe you could get some dinner afterward?
https://twitter.com/jetpack/status/1095544323574296576
And this one is terrible, but honestly he sounds like a huge jerk and she's dodging a bullet with her brave ask.
https://twitter.com/jetpack/status/1095455661234765825
While this one has WAY too much information about how the guy is already in love. He should take a note from the guy who just said no, in our opinion.
https://twitter.com/jetpack/status/1095677372756561921
Finally, here's what happens when your crush follows the same sexpert as you do on Twitter.
Moral of the story? Dating can be kind of terrifying and Valentine's Day is a pressure cooker. These women putting it out there have our full support and admiration, because it's not easy at all.
There's still time to take the challenge, if you are that brave. Although we just kind of want to read the responses while we drink wine and eat chocolate in our pajamas.