TBH, You Should Just Buy Yourself A V-Day Gift And Call It A Day
by Team Scary Mommy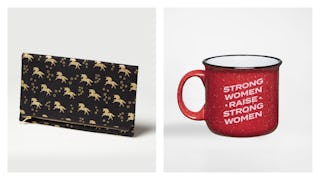 Image via Scary Mommy Shop
Take a time-out from doing Valentine's Day things for everyone else and shop for #1
Valentine's Day is all about reminding the people you love just how much you love them, right? Well, why not remember to throw yourself on the list this year? Because we've got the perfect gift guide for you to treat yourself on February 14th and beyond.
Like pretty much all holidays when you're a parent, Valentine's Day can be…a lot. The little cards for everyone in your kid's class, the treats, the last-minute Hallmark card for your spouse, and anything else you do to show your favorite people you care. It's a juggling act.
Which is why we think it's incredibly important to take a time-out for yourself, and browse through some merch for no one but you.
Tiffany's, Schmiffany's. This adorable heart necklace is simple, sweet, and perfect to wear on its own or along with some of your favorite bangles. The three hearts are the perfect symbolization of either "I love you" or "Me, myself, and I" — we'll leave the interpretation up to you.
Cunningham Gold Aviator Shades
These sunglasses are perfect for literally every occasion — running to the store to stock up on bread and milk in the winter while protecting your eyes from snow blindness, or a fun (solo) road trip. Where you wear them is your choice, but you'll always look good no matter where you go.
This is perfect for those of us who always wanted to be a unicorn when we grew up. The clutch is sleek enough to go out for a Valentine's Day night on the town, but fun enough for your inner child to squeal over.
This pink polish is as practical as it is fun and universally flattering on anyone. Coolest of all: this shade, Baby, Baby, is inspired by Diana Ross and The Supremes. So yes, you do need two bottles for yourself.
If you're looking for a little less luxury, a little more practicality for treating yourself — look no further than this "Was Cool Once" t-shirt. Because we all were. We really were. Once. *sighs wistfully*
You can subtly roast your kids without ever having to say a word — your t-shirt can literally say it for you. When they're moaning and groaning and blaming you for something, you can wear this t-shirt as a personal mantra (and life lesson for them).
We're not sure what the cutest part about this mug is — the message, or the rustic, camping/coffee percolator lewk of it. Either way, it's a must-have mug. You can sip your morning coffee and know you're doing the Lord's work by being a strong woman raising a strong woman. Even if that young woman is a grumbly tween.
These pencils aren't for your kids to use for their math homework. These are for you and you only. And possibly a gift for your own mother, because, let's face it — all moms are right.
If this isn't the truest statement to sum up being a parent in 2019, we don't know what is. So instead of succumbing to an anxiety attack (or if you feel one is nigh), just light this baby up and breathe in. Treat your senses to any one of the five scents this candle comes in: metallic rose, lavender + sage, sparkling birch, tobacco flower + vanilla, or spicy blood orange.
Scrub off that excess dead skin and your day's worries all at the same time with this decadent body scrub. Caffeine helps to create microcirculation to target acne, scarring, stretch marks, and cellulite. Plus, the grounds are fine enough to act as an incredible exfoliant.
Whatever you decide to go with, just don't waste one second of your time feeling like you shouldn't buy a little something for yourself this Valentine's Day.
This article was originally published on