Valentine's Day Is Going To Be A Sad Day For So Many Kids
by Elaine Roth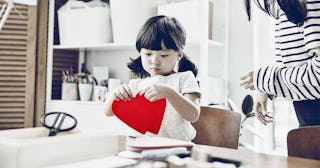 Young girl looking at paper hearts while making Valentines Day cards in home
I only vaguely remember the first Valentine's Day after my husband died. My sister offered to get me flowers—since, you know, my husband couldn't that year. I thanked her but said absolutely not. I was never much of a Valentine's Day person anyway, but that year, I really didn't want to acknowledge Valentine's Day—a day for couples—at all.
But my kids wanted to. Even though their father had died eleven days earlier, they wanted the normalcy of tradition—of teddy bears and heart-shaped chocolates and tear-off cards to distribute to their classmates. I don't remember exactly how we celebrated Valentine's Day that year, but I do remember walking in a daze through the CVS, grabbing the last few Valentine's Day themed trinkets off the shelves to surprise them with on the day of.
This year, as we close in on the end of a pandemic year, there are more folks grieving than ever. More than 400,000 people have died due to COVID and an enormous amount of children and young adults are experiencing their first holiday without their loved one.
Scary Mommy got in touch with Carole Geithner, a clinical social worker with over 20 years of experience and author of "If Only," about how to navigate grief and Valentine's Day for children and young adults that have lost a parent in the past year and how to best support family members and loved ones experiencing grief this Valentine's Day.
Kids Experience "Grief Bursts"
Grief is individual, and no two individuals experience grief in the exact same way. Within families, grief is often experienced and felt differently. When it comes to kids, they may not experience grief in a prolonged way that an adult would. Instead, Geithner writes that kids may experience "grief bursts." They may feel grief and then be able to pivot back to playing or routines. And that's okay.
For adults supporting children through grief, the important thing is to be present for them, no matter how their grief presents or what they feel, writes Geithner. She notes that for this reason it's crucial that the adults in children's lives feel support, too, "so that they aren't buffeted and blown off balance or shut down and unavailable to the child."
Let Kids Take The Lead
For kids experiencing their first Valentine's Day without a parent or grandparent—or even grief in general—it's important to let kids take the lead. "Kids and teens are more likely to participate if they are involved in the planning," writes Geithner, who suggests asking the child to come up with creative ideas to help express and send their love to the one they lost.
Potential activities like creating art projects, writing a letter to the one who passed away, making a collage, baking and decorating a cake with your loved one in mind can help the child stay connected to their "valentine" in the present while still honoring their memory. The activity can be quick or more time-intensive. All that matters is that it's meaning-making.
The final product is less important than the process of thinking and remembering that comes while doing the activity, which helps the child feel connected, writes Geithner.
Set Aside The Shoulds
There's no right way to grieve, just like there's no right time in which to grieve. Grief lasts as long as love lasts, and the waves of grief ebb and flow with time and circumstance. With that in mind, do what you, and the grieving kids in your life, need. That might be to embrace the day, avoid the day, or create a unique ritual for the day. Approaching the day with intention and grace for yourself and your loved ones is what matters.
"The fact is, we each grieve in our own way and at our own pace," writes Geithner. "The recognition and acceptance of that uniqueness is key to feeling more comfortable with our grief and finding our own path."
Conversations Are Not "One And Done"
As children get older, the way they understand death and the questions that surround the death of their loved one may evolve. As a result, conversations about death will likely not be "one and done" kinds of conversations, advises Geithner. For adults supporting grieving children, on Valentine's Day and beyond, it's important to create opportunities for children to air their questions.
This is especially necessary, Geithner notes, because many children tend to feel confusion and guilt around their grief. They may believe they somehow caused the loss of their person or they could have done something to prevent it. It often takes years for these kinds of beliefs to come to the surface, and then to be addressed.
Make Space To Share Memories
There's an instinct, when it comes to approaching grievers, to avoid the topic of death, to avoid saying the name of the one they lost as a way to protect the griever. Most times, that choice leaves the griever feeling isolated. (That's been my experience, anyway.) Instead, make space for grief, even though it can feel awkward. Geithner suggests, "Instead of relying on silence, avoidance or platitudes, we can ask to hear a story about the person who died, share memories, or say what we miss about them."
The person you're hoping to support may or may not take you up on the offer—and that's okay. There's immense value in knowing that you aren't the only one who remembers, in realizing that you don't have to grieve alone.
"Grieving alone, especially around holidays such as Valentine's Day –in either a physical or emotional sense – can be incredibly painful and alienating," writes Geithner, but the more we normalize grief, the more we can begin to recognize that grief is not a problem to be cured.
This year for Valentine's Day, when the pandemic has made some of our usual routines impossible, I don't know how my kids and I will spend the day—we're still working on creating the rituals that work for us. But I know we will say their dad's name, share stories, and bring him into our present. Because our grief is a sign that we loved, and still love, and remember.
This article was originally published on