'Vanderpump Rules' Newbie Has Never Eaten Pasta Because It's Why 'Everyone Gains Weight'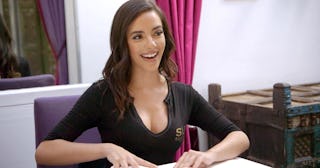 Bravo
When new SURver Charli Burnett made her first appearance on Vanderpump Rules, she revealed she has never eaten pasta because it's "the reason everyone gains weight." And in this week's episode, we watched fellow SURver (and Youtuber and alleged racist-tweets tweeter) Brett Caprioni ask Charli out on a date. And while tonight's episode also heavily focused on the aftermath of Tom Sandoval asking Jax Taylor and Brittany Cartwright about their former allegedly problematic, homophobic pastor — followed by Jax telling Sandoval that he is no longer invited to the wedding — we couldn't help but ask ourselves a whole episodes into Season 8: Who the hell is Charli?
For starters, Charli is described in her Bravo TV bio as an aspiring model and actress and that she "splits her time between waitressing at SUR and working as a Hollywood bottle service girl."
But it doesn't end there. Here are a few more things to know about Charli, one of the V-Pump newbies.
She competed in pageants
According to her website, Charli spent her teen years competing in pageants until she went off to college and decided to pursue her dream of being an actress.
"After two long years in this city I've found success in my career and developed into the women I am today," she wrote. "I am extremely grateful for the opportunities I've had up to this point and am looking forward to creating together!"
Charli is now signed with Bella Agency and Momentum Talent Agency.
She's been featured in a few commercials
Back in August, Charli posted to her Instagram a Mail Chimp commercial she worked on.
"New commercial werk for @mailchimp," Charli captioned the video. "So grateful to work with a great team over at @hecho_studios & my agents @bellaagencyla! Thank you for the opportunity."
She's also starred in commercials for Ikea, Vodafone, and Toyota.
It's not just about the pasta
In addition to pasta, Charli had never had an avocado — until last year.
"I just tried an avocado this year," she revealed to Brett on their date.
Lala and Jax are seemingly not fans of Charli
After Charli's comment about pasta aired on Bravo in January, Jax and Lala were quick to comment about it on Instagram.
"You're gonna tell me you never had @kraft_brand mac n cheese?" Jax wrote on Instagram. "I feel sorry for you! But I also think you're full of [poop emoji]." Lala then commented, "She's a fucking moron," to which a fan responded," Yikes…. a little harsh over some mac n cheese." "Saying you don't eat pasta because that's the reason people are 'fat' is a stupid thing to say," Lala responded to the fan.
Tell us how y'all really feel about Charli…
This article was originally published on