Tom Schwartz Publicly Degrades Wife Katie Maloney-Schwartz On 'Vanderpump Rules'
by Kristine Cannon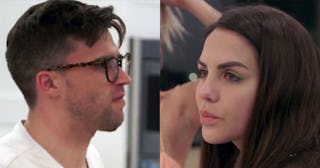 Bravo
'Lovable' Tom Schwartz shows his malicious side yet again
This week, we have to conduct yet another moment of silence for an untimely death: the three 12-packs of toilet paper Tom Sandoval and Max Boyens wasted while TPing Jax Taylor's home.
RIP.
From watching Scheana Shay film a YouTube video to watching Sandoval get "arrested" as Jax's revenge prank, this episode had a few memorable moments; but, none were as awful and infuriating to watch than Lala Kent and Raquel Leviss' argument in Katie Maloney-Schwartz's kitchen during ladies' wine night, and the way Tom Schwartz spoke to his wife, Katie, during Jax's birthday party.
At the wine night, all the ladies were there — except Kristen Doute, of course. And while all seemed well in the Maloney-Schwartz household as the women all snacked on the charcuterie spread, Lala couldn't resist confronting Raquel about how she supposedly acted following their conversation at Sandoval's party.
"She needs to feel lucky that you're being graced with my presence, and you will know your place," Lala said to Scheana at the wine party. "People like Raquel gotta remember to stay in their lane and let people like me run shit," Lala continued to say in a talking head.
A quick recap: Last episode, during Sandoval's party, Lala asked Raquel if the newly sober James Kennedy (Raquel's boyfriend) drank at a party. Raquel said he didn't and asked Lala where she heard that piece of gossip. Turns out, it came from James' former BFF, Logan Noh.
"I just don't understand your friendship with Logan," Raquel said to Lala. But, Lala defended him, saying, "That's a good friend right there! He lied for James a couple years ago about the hooking up stuff. I mean, I know that it's not made up. I've been there when deals have been, 'I get a blow job if I win and you have to do this if I win.'"
"Shut the f*** up," Raquel snapped. "That is not true."
Back at Katie's wine night, Lala headed back into the kitchen and confronted Raquel. "Raquel, I just want to make this very, very clear," Lala started. "When I pulled you aside at Sandoval's birthday, I was genuinely concerned. I had heard James was at a party, and I wanted to make sure he was OK. You turned it into such an ugly thing."
"I did?" Raquel asks, genuinely surprised, to which Lala emphatically responded, "Yes!"
"For you to focus on Logan—" Lala said, with Raquel interrupting, "I'm sorry—"
"No, no, no, I'm speaking!" Lala said.
"We're having a conversation, and that means two people—" Raquel started, to which Lala said, "Then listen and let me finish. I think you've forgotten your place, but I'm going to remind you."
Lala continued: "You said, 'Logan is obsessed with James.'"
"Because he is," Raquel responded.
"I want to bash my head into your fucking table," Lala said.
"Please do," Raquel said.
"I think Lala sees me more vulnerable than I am, and she preys on that," Raquel then said in a talking head. "It's a very bully thing to do. I mean, if we don't all agree that she's a bully, then we can all agree that she's a bitch."
Fast-forward to the end of the episode, past Sandoval getting "arrested," and press play on Katie, who wasn't too fond of the prank.
"I understand where Katie's coming from. It's tone-deaf; there are layers to it. I am glad that it wasn't real," Ariana explained at the party, defending Katie.
"To joke around about them [police], is in poor taste, in my opinion," Ariana then says in her confessional.
"It really wasn't that big of a deal," Sandoval says at the party, to which Katie responds, "A cop handcuffs you and puts you in the back of a cop car, and you don't want us to react?"
And then it happens — for the umpteenth time on this show: Schwartz puts down Katie, telling her to "shut up" — and not privately (save for the cameras, of course), either, like he did in Mexico, but in front of everyone at the party.
"It's not funny," Katie says, quickly followed by Schwartz mocking her. Sandoval then defends Katie, telling Schwartz to knock it off.
"Nobody gives a shit about your opinion," Schwartz later tells his wife.
"Shut your f***ing mouth, dude," Sandoval scolds Schwartz. "Do not say that."
"That's why I don't have sex with her," Schwartz continues, seeing red and relentless in his quest to degrade Katie.
Beau now steps in, telling Schwartz, "Dude, I gotta say no on that."
"Sit down on this one," Schwartz says to him, but Beau won't budge. "There's one thing getting in drunken arguments with your significant other," Beau says in a talking head, to which we then hear Schwartz call Katie a "moron." "But the way that Schwartz is talking to Katie, it's just like venom."
Schwartz, you might want to lay off the alcohol, too.
Vanderpump Rules airs Tuesdays at 9/8c on Bravo.