Vanessa Bryant Responds To 'Insensitive And Disrespectful' Rap Lyrics About Kobe's Death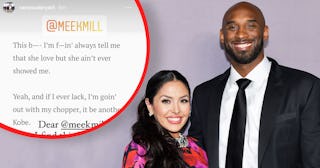 Vanessa Bryant/Instagram and Rodin Eckenroth/Getty
Meek Mill's lyrics mentioning the late Kobe Bryant are thoughtless and insensitive at best
Vanessa Bryant, the widow of the late NBA legend Kobe Bryant, is speaking out about recent lyrics rapper Meek Mill used in a song, calling the artist out for lacking "respect and tact."
Bryant also lost the couple's daughter, 13-year-old Gianna, after a tragic helicopter crash just over a year ago in Calabasas, California. The crash also claimed the lives of seven others who were en route to Kobe's basketball facility. She took to Instagram to call out the "Dreams and Nightmares" rapper for one lyric in an untitled song: "If I ever lack I'm goin' out with my choppa, it be another Kobe."
"Dear @meekmill," she wrote. "I find this line to be extremely insensitive and disrespectful. Period. I am not familiar with any of your music, but I believe you can do better than this. If you are a fan, fine, there's a better way to show your admiration for my husband. This lacks respect and tact."
Mill took to social media to quasi-apologize, saying in part, "I apologized to her in private earlier today, not to the public…Nothing I say on my page directed to a internet viral moment or the family of a grieving woman! If you care about someone grieving, change the subject!" It's unclear why he would mention Kobe at all in this manner knowing his entire family still grieves his death.
Unfortunately, he continued on, trying to defend himself on social media, writing, "Somebody promo a narrative and y'all follow it…. y'all internet antics cannot stop me …. shit like zombie land or something! Lol."
He later added, "I say random shit all day on social … it becomes a trend to hate on me every once in a while but I feed off that shit ima beast literally."
Bryant has been open about her grief following the death of her husband and daughter, writing shortly after their death, "My brain refuses to accept that both Kobe and Gigi are gone. It feels wrong. Why should I be able to wake up another day when my baby girl isn't being able to have that opportunity?! I'm so mad. She had so much life to live."
She also said she's shared her feelings because she knows others suffer alone. "I just wanted to share in case there's anyone out there that's experienced a loss like this," she wrote. "God I wish they were here and this nightmare would be over."
Kobe is survived by Vanessa and their three other daughters Natalia, 18, Bianka, four, and Capri, one.