Vanessa Bryant Shares Heartbreaking Note To Kobe, Gigi On Valentine's Day
by Julie Scagell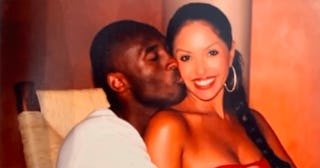 Vanessa Bryant/Instagram
Vanessa Bryant wished her late husband and daughter a happy Valentine's in heaven
Vanessa Bryant posted a heartbreaking Valentine's Day note to her late husband, Los Angeles Lakers legend Kobe Bryant, and their daughter Gigi, who died with him.
On Instagram, Vanessa shared a picture of the two and set the post to Lauryn Hill's song "Tell Him." In the caption, she wrote, "To my forever Valentine, I love you so much. Missing you so much on your favorite holiday. Te amo per sempre. Kisses to you and Gigi in heaven. Happy Valentine's Day, my babies. With all my love, your boo-boo."
RELATED: 14 Funeral Songs To Help Honor A Late Loved One
https://www.instagram.com/p/B8kAeW_AnYc/
Kobe and Gigi died almost three weeks ago in a helicopter crash while on their way to Mamba Sports Center to play in a basketball game. Ara Zobayan, John Altobelli, Keri Altobelli, Alyssa Altobelli, Sarah Chester, Payton Chester, and Christina Mauser also died in the crash, which took place in Calabasas, California.
Kobe and the couple's 13-year-old daughter were laid to rest during a private funeral at Pacific View Memorial Park in Corona Del Mar, California. "Vanessa and the family wanted a private service to mourn their loss," a source tells ET. "The ceremony was extremely hard for everyone as it's still hard for them to grasp they lost two beautiful souls."
The family has received an outpouring of love since that day, and Vanessa has reached out on social media to thank everyone for their thoughts. "My girls and I want to thank the millions of people who've shown support and love during this horrific time," she wrote on Instagram. "Thank you for all the prayers. We definitely need them. We are completely devastated by the sudden loss of my adoring husband, Kobe — the amazing father of our children; and my beautiful, sweet Gianna — a loving, thoughtful, and wonderful daughter, and amazing sister to Natalia, Bianka, and Capri."
https://www.instagram.com/p/B77K8XWDY7O/?utm_source=ig_embed
Enduring such a tragic loss so suddenly would be unthinkable. Bryant not only has to grieve one loss, but two, and at the same time, remain strong for her three surviving children. On days like Valentine's Day when the world is posting pictures of their partners and kids, the pain of that loss must feel even more present.
Bryant also reached out to fans this week letting them know she's decided to rename the Mamba Sports Foundation started by her late husband. The group will now be called the Mamba & Mambacita Sports Foundation.
"Because there is no #24 without #2, we have updated the Mamba Sports Foundation to now be called the Mamba & Mambacita Sports Foundation," she wrote on Instagram, sharing the new logo. "Our mission remains the same – and stronger than ever – to provide opportunities to young people through sports. Thank you all for the outpouring of support and your kind donations to date as we carry forth Kobe and Gigi's legacy… We hope to empower young athletes in a world they left us all to help shape."
https://www.instagram.com/p/B8hXv5KjpZs/
Here's hoping the family continues to heal a little bit every day and keeps the memories alive of Kobe and Gigi so the world remembers exactly what their lives meant to those that loved them.
This article was originally published on