Why Our Ultrasound Appointment Was The Worst Day Of My Life
by Simone Wilkirson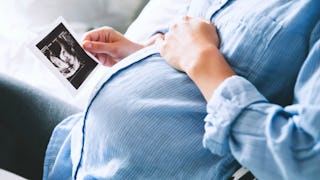 NataliaDeriabina/Getty
The third ultrasound we had of our twins was the worst day my husband and I have experienced.
For the first two scans, we were incredibly nervous. We had read statistics of pregnancy loss, and expected the worst at our first appointment. However, at each of the previous scans our babies measured exactly perfect (he actually measured one day ahead), and at the second one we saw them dancing.
We went to the 12-week appointment feeling a bit more calm, and excited to begin doing all the normal baby things like registering and buying maternity clothes. We were anxious to go to and see our little ones wiggle again. We held hands as we watched and smiled as the babies were measured, but at the end of the scan the tech announced we no longer had two heartbeats. We were devastated to discover that one of our babies had stopped growing a only a few days before. There was no blood, nothing dramatic, just an abrupt and painful end.
For two months, we had prepared our minds, hearts, and families for multiples. This was supposed to be the part where we told all our friends (some knew) and made our clever 1+1=4? Facebook announcement. This was supposed to be "safe." Instead, the loss came after we had begun to feel comfortable with the pregnancy, and our confidence was shaken to the core.
For the duration of the pregnancy, we never felt safe again. It didn't feel safe to get too excited or talk about her much. It didn't feel safe to plan for anything or set up her nursery. Each step we took moving forward was colored with the shadow of doubt, and intense fear that perhaps we would not get to meet her either.
We searched for support with little success, and grieving proved to be difficult and confusing. We have many friends who have experienced a loss, but none with multiples. It was hard at times not having anyone to relate to who had the same experience. It was surreal to be planning for our rainbow baby during our first pregnancy. Searching for support online was even more isolating. It seemed that with most vanishing twins, one has been lost before the multiples are even discovered, and are significantly behind or beginning to "vanish" by that first scan.
We read that sometimes in cases of a vanishing twin, one twin will "step back" if the body senses that both babies cannot thrive. We chose to be thankful to him for looking out for his sister. He may have ensured that she got to us safely, and that we did not end up losing them both.
Throughout the pregnancy, he shrank some, but never smaller than 10.5 weeks. We still saw him once a week as they measured and checked to make sure his presence was not harming her. At first it was excruciating to see him week after week, not growing and no heart beating. After a while it was reassuring. It was as if he was her guardian keeping watch. It became sad but sweet to see him through week 24 when she was finally too big for us to see him any longer.
People often jokingly ask expecting parents if they are having twins as bellies get bigger, and we were no exception. The question itself was less painful than having to respond with a no. Both twins may have still been with us, but we would only be taking one baby home from the hospital.
We were thrilled for her birth, and conflicted with the feelings of extreme sadness about his "official" end. We had known he was gone for quite some time, but her entering the world made the fact that he would never join us all the more real. This feeling has been aptly compared to hosting a birthday party and a funeral in the same room.
Once she was born, we expected things to be easier, but in some ways it was harder in the beginning. The loss compounded the postpartum anxiety immensely, and made us more fearful for her wellbeing. For a while, it continued to feel as though she could be taken from us at any moment.
All the sweet little firsts leave us imagining what it would be like with both of them there. Sad moments and days will continue to happen, and the absence is more starkly felt at family celebrations. Last Christmas we finally announced the pregnancy to our families with framed ultrasounds of our babies, and this year half of that equation was missing. Our hearts were overjoyed for her first holiday season, but heavy from that missing piece.
We never got the chance to meet or hold this tiny person who played such a huge part in our lives, and our beautiful family will never look quite the way we envisioned it for those exciting months. It will never stop hurting, but it will keep getting easier as we watch our daughter grow.
This article was originally published on