Your Kids Are Going To Want These Toy Story Vans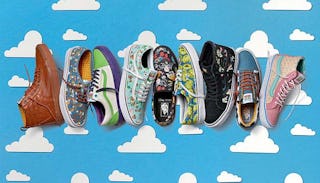 Image via Vans
Vans and Disney-Pixar collaborate on the cutest shoes of all time
Vans and Disney-Pixar released some teaser images of a new shoe collaboration. We may or may not have quickly scanned to see if they also come in adult sizes, before we even looked at all the images.
RELATED: The Best Toy Story Toys To Take Your Kid's Imagination "To Infinity And Beyond"
They do. You know — in case you know someone who may be into that sort of thing. I'm not setting a Google alert so I can buy a pair of these Woody high tops, YOU are. (Okay. Maybe I am.)
"Vans showcases Andy's favorite toys across an extensive assortment of adult and kids footwear as well as apparel and accessories this holiday season," the Vans website states. I hope they've gotten the memo the holiday season has arrived. My neighbors have Christmas lights up already, no joke. Where are my Va– I mean, my kids' Vans?
Buzz, Woody, Ham, Slinky, Rex, and Bo Peep are all featured on designs.
There's even a Sid-inspired slip on featuring Roller Bob, Legs, Rockmobile and Baby Face. There's also some adorable accessories and clothing:
Vans has been teasing the line on Twitter since September. It will finally be available in stores and online October 7.
This article was originally published on