Venus Williams' Dad Goes Off On Reporter Who Questioned Her Confidence At Age 14
by Valerie Williams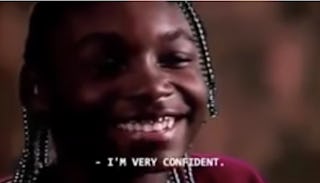 Image via Twitter/ABC News
Everyone needs to watch this resurfaced video of Richard Williams defending daughter Venus' confidence at only 14 years old
Richard Williams, father and coach to tennis goddesses Venus and Serena, never gets the credit he deserves. He raised his girls to be not only the best of the best in the tennis world, but clearly had a hand in pumping them full of the confidence needed to get to the top. A video of Venus being interviewed at age 14 has resurfaced, because the reporter asked her to defend that confidence — and Richard wasn't having it.
The reporter had just asked her about an upcoming match, to which Venus replied she was "very confident" she would win, and seeing as she was undefeated on the United States Tennis Association junior tour and ranked first among under-12 players already, it's hard to understand his astonishment.
I don't know who this reporter is, but he definitely picked the wrong brilliantly talented child to mess with. After Venus very clearly stated "I know I can beat her…I'm very confident," the smarmy dude answered, "You say it so easily. Why?"
And that's when Richard stepped in.
Just as his daughter was piping up to defend herself by saying, "Cause I believe it," the dad let the reporter know exactly what kind of shit he'd just stepped in.
"Let me tell you why. What she said, she said it with so much confidence the first time, but you keep going on and on.
"You've got to understand that you're dealing with the image of a 14-year-old child. And this child is gonna be out there playing when your old ass and me are gonna be in the grave.
"When she say something, we done tell you what's happening. You're dealing with a little black kid and you let her be a kid. She done answered it with a lot of confidence. Leave that alone."
Wow.
So what makes this so special and amazing aside from the obvious of a proud father defending his daughter? First of all, watch her face. She's heard this before — she's been questioned before about why she thinks she's so good at what she does and her father has reminded her and everyone else who's ever tried to plant a seed of doubt that his daughter has every right to feel confident because she's that damn good.
Any time someone tries making a child explain why she feels good about herself, it risks making her wonder too. It makes her think that maybe she has no right to, it makes her question her own talent and worth. If that reporter was truly in awe of her faith in her own abilities, then he can wonder about that in his own head. He had no business at all making her wonder too.
Thankfully, Richard Williams wasn't letting it happen.
He knew what hurdles she would eventually face coming from the public courts of Compton and breaking through to eventually dominate the tennis world — and the last thing she needed as a literal child was a grown-up white man making her wonder if she had the right to be so proud of herself.
Spoiler alert: she did.
This article was originally published on