Vicki Gunvalson Said On 'Housewives' She Doesn't 'Get' Drag Shows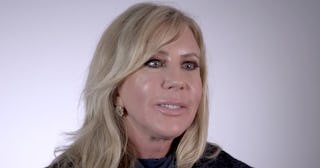 Bravo
The 'RHOC' women went to a drag show and seemed to be having a great time – except for Vicki Gunvalson, that is
For a cast member who was demoted, Vicki Gunvalson sure has a lot of involvement in the full-time cast members' drama this season of Real Housewives of Orange County. And by that we mean, she has done an incredible job inserting herself into feuds that have nothing to do with her. But it isn't Vicki's screaming and yelling and "slut"-calling that has us cringing this week; it's Vicki's ignorant comment about the drag show the women attended during their "vacation" to Key West that has fans doing one of two things: changing the channel or immediately taking to Twitter.
Halfway through the episode titled "Wild, Wild Key West," Braunwyn Windham-Burke, Kelly Dodd, Gina Kirschenheiter, and Emily Simpson are at a drag show having a blast, when Vicki, Shannon Beador, and Tamra Judge join them later.
All seems to be going well – until Vicki says she doesn't "get" drag.
"I don't understand it. Boys dressed like girls. Girls dress like boys. I don't get it. Sorry, drags," she said during the episode.
And viewers were not here for her comments.
While it isn't surprising that Vicki said what she said (she has a history of playing naive; remember when she told Gina that she didn't have a moral compass because she didn't believe in God? And don't even get us started on the The Great Brooks Cancer Scam of Season 10.), it was no less off-putting for viewers.
Vicki, why don't we help you "get" drag? According to the National Center for Transgender Equality, "drag" originated as British theater slang in the 19th century, used to describe women's clothing worn by men; but, today…
"Today, many prominent drag artists are still people who identify as men and present themselves in exaggeratedly feminine ways as part of their performance, and are known as drag queens. While some drag queens live their lives as men outside of their drag personae, people of any gender can be drag queens. Drag kings, who wear men's clothing and perform stylized forms of masculinity, are less common, but do exist. Many drag kings are women, but people of any gender can be drag kings as well."
Got it? Good.
Should Vicki get promoted after watching this? Because, let's face it, Vicki getting more airtime means we have to listen to her ignorant comments for another season (or worse, seasons – plural). And by the looks of it, viewers want nothing of the sort.
This article was originally published on