12-Year-Old Blows Pink Away By Singing One Of Her Songs And We're In Tears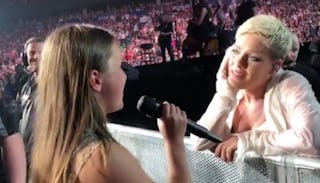 Image via Twitter/Victoria Anthony
Young fan launches online campaign that leads to her singing in front of Pink herself
In case your Mother's Day didn't include enough touching moments that brought a tear to your eye, grab some tissues and have a seat — because this video of a young fan singing a Pink song to Pink herself is just about the sweetest thing ever.
It was during the pop star's concert yesterday in Vancouver that 12-year-old Victoria Anthony got the chance of a lifetime — to show her incredible vocal chops to her idol. And in true Pink fashion, her reaction to this talented girl is absolutely everything.
Oh yes, that is our beloved Pink with a hand over her mouth doing all she can to not burst into proud tears while listening to this unbelievably talented kid belt out her hit song "Perfect" without missing a beat. "You're amazing," she tells Anthony, embracing her at the end. My heart can barely take it.
It wasn't just by chance that Anthony got to sing for Pink. It all started when she launched a full-on social media campaign to get the artist's attention and hopefully, the chance to go on stage and sing with her. She created and promoted the hashtag #VicandPink, sharing it along with videos explaining her dream to sing with the superstar.
She even got big name support from fellow Canadian songstress Sarah McLachlan.
Leaving no stone unturned, she got her adorable trio of brothers in on the action, begging Pink to give their sister a chance to live out her dream.
"Are you who I read about on the news?" Pink asked as Anthony made her way down to the stage. "Do you want to come sing something?"
As Anthony performed, Pink became visibly choked up which got ME choked up because honestly, could she be a more wonderful human being? The look on her face was totally full of pride and happiness — this is not a woman worried about being upstaged and it's freaking delightful.
Anthony tells Global News she's still "kind of in shock," but has a little wisdom to share. "What I'm taking away from this, and what everyone should take away, is that when you want something like nothing is impossible. You can always achieve something; it's just about the amount of effort you put in."
It's about talent too, and this kid clearly has it.