Victoria Beckham's Daughter Nails Her Mom's Spice Girl Moves In Adorable Photo
by Cassandra Stone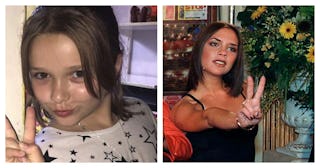 Instagram/Victoria Beckham/Getty/Tim Graham
Little Harper is giving us so many nostalgic feels in this perfect photo
Though Victoria Beckham has decided to sit out of the Spice Girls renaissance that's been happening this year, she's still Posh Spice forever. And because we all love her no matter what, seeing her daughter totally nail her mom's old Spice Girl moves and signature pose is like re-living the dawning age of the Spice Girls all over again.
Beckham's youngest child, Harper Seven, appears on her mom's Instagram page in a totally serious pose that will make you smile and recall your own childhood worship of the Spice Girls fondly.
https://www.instagram.com/p/Bz0nFSDJHn5/?igshid=slc3xj47t7mp
"When u bump into Mummy Spice! X #harperseven 😂😂 #girlpower," Beckham captions the photo. How. Perfect. Is. This. It's just so freaking adorable. Especially considering if my daughter were to ever come across old photos of me to pay tribute to, she'd have to pose in a stained Abercrombie sweater with silver eyeshadow and hideous, low-rise jeans. Not exactly as remarkable as being Posh Spice.
The Spice Girls recently completed a huge reunion tour this summer, though Beckham didn't join in (she's got a fashion empire and sexy ass husband to run and maintain, ya dig?). And it's been amazing to see our favorite '90s girl group have another round of fun and fame.
There's even going to be a Spice Girls movie (no, it's not a Spice World sequel, but we can dream) next year. The movie details are being kept under wraps for the most part, especially because it's in the early stages of development with Paramount Animation. What it will include, according to The Hollywood Reporter, is a slew of new songs as well as their '90s classics that all fans know by heart and love with every fiber of our being.
The Spice Girls are so iconic, even living legend Adele is reduced to a squealing puddle of fangirling mush in their presence, as demonstrated when she attended one of their recent concerts at Wembley Stadium in London.
Until the movie is released, or until the Spice Girls announce a world tour (please, if there is a God, this will happen), we'll totally settle for more photos of Harper Seven and any of the Spice Girls' kiddos doing their best #GirlPower moves.